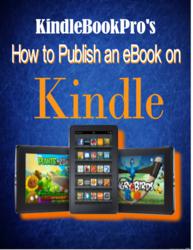 Suddenly, India becomes the second largest potential market
New Delhi, India (PRWEB) August 22, 2012
While the U.S. remains the largest e-book market, the international e-book market is growing at a faster rate and self-publishers are easily able to offer ebooks up for sale in those new markets. PurpleBananaBrain.com is at the forefront of this wave, being accessed throughout India today for its popular resource guide on how to publish an ebook on Kindle. Authors realize Amazon's KDP is a fast, free and easy way for them to make their books available to Kindle customers, not just in India, but around the world on both Kindle devices and free Kindle reading apps.
In a presentation at Publishers Launch BEA, Bowker's Kelly Gallagher said that, "Twenty-four percent of Indian adults with Internet access have bought an ebook. It's key to look at the size of the overall population combined with the Internet penetration rate. Suddenly, India becomes the second largest potential market" after the United States. Even though the transition is primarily led by professional, business and academic ebooks, authors of other genres who have never written a book plan to capitalize on the trend by using KindleBookPro's How to Publish an E-Book on Kindle.
Russ Grandinetti, vice president of Kindle content for Amazon, said, "We are proud to launch this new Kindle store for Indian customers, offering Kindle book purchases in rupees and the ability to buy and read the work of many great Indian authors." With increased visibility, new authors are also using the e-book cover design services provided by PurpleBananaBrain.com along with the popular resource guide.
The India Kindle Store currently features a vast selection of titles, new releases, bestsellers, and works from a range of Indian authors, including Chetan Bhagat, Ashwin Sanghi, Ravinder Singh and Amish Tripathi. By Indian authors using KindleBookPro's How to Publish an E-Book on Kindle, many more titles will likely accompany those titles.