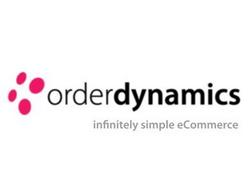 New payment solutions are constantly under evaluation by our product development team, because of the significant positive impact it can have on our Client's sales
Toronto, ON (PRWEB) March 26, 2009
OrderDynamics Corporation launches support for Amazon Simple Pay™, a set of payment-only products that allows shoppers to use payment information from their Amazon.com accounts as a payment method. By offering Amazon Simple Pay™ to their shoppers, online merchants provide a convenient, trusted, and easy ordering mechanism to tens of millions of Amazon Customers.
"New payment solutions are constantly under evaluation by our product development team, because of the significant positive impact it can have on our Client's sales" explains Michael Benadiba, CEO OrderDynamics Corporation. "We also make the frontend implementation of these payment solutions easy through self service access from our backend management dashboard" continues Benadiba. Amazon Simple Pay™ provides brand recognition, purchase protection, and convenience to online shoppers - all things that can increase the chance of converting a sale.
The OrderDynamics On-Demand eCommerce platform has access to over 20 branded payment methods on their front-end eStores through its partnership with CardinalCommerce such as: Verified by Visa & MasterCard® SecureCode™, Amazon Payments™, Bill Me Later®, Ebates™, eBillme™, eLayaway™, Google™ Checkout, Green Dot® MoneyPak®, MyEcheck, PayPal™, RevolutionCard™, Mazooma™, ClickandBuy®, and more.
Learn about how we've helped online merchants grow: On-Demand eCommerce Case Studies
About OrderDynamics Corporation:
OrderDynamics Corporation is a privately owned company that provides turn-key eCommerce solutions to businesses looking to grow their online sales solutions. The success of OrderDynamics is highly attributed to its response to real Client requirements and Dynamic Merchandising concepts which provide superior control and help drive revenue. The OrderDynamics solution is designed for online merchants and services different business such as retail, manufacturing, business-to-business, complex online retail, and more. OrderDynamics officially launched its On-Demand eCommerce Solution in 2006 after 2 years of research and development.
###