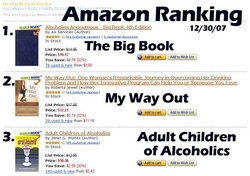 Anchorage, AK (PRWEB) January 2, 2008
Roberta Jewell never set out to write a book. And she certainly never expected to see it rise to best seller status among Amazon's self-help listings. But that's exactly where it landed at the end of 2007 in the behemoth bookstore's alcoholism recovery section. My Way Out describes Jewell's 20 year struggle with alcohol dependence and the customized program she developed to overcome her cravings. Released in 2005, the book has grown increasingly popular, particularly for those reluctant to attend 12-step meetings or enter in-patient treatment.
"It's both remarkable and humbling," says Jewell, who claims to sell an equal number of books in downloadable PDF format on her own website. "There are many excellent resources today to help problem drinkers and alcoholics. So it's especially rewarding to know that this one has been helpful to many people."
According to a December 30 Amazon snapshot, Jewell's book ranked close to front runner and industry standard "The Big Book", published by Alcoholics Anonymous and considered essential reading within traditional recovery circles. However, Jewell is quick to point out that her program is not in conflict with AA and it works well in conjunction with the 12-step model.
"Many in our program have found 12-step immeasurably helpful, and it speaks to the beauty of this approach," she says. "It allows individuals to seek out support in the venue they find most valuable, utilizing resources that are appropriate to their own situation. That also means we must understand that some people will simply not attend local meetings. But they still need help."
Jewell's treatment plan involves a blended therapy which includes nutritional supplements, hypnotherapy, exercise, and dietary changes. Anti-craving medication is recommended for patients if appropriate. Support plays a major role and is found online at her anonymous web-based forum accessed by visitors from around the world.
Dr. Linda Garcia, MD, addiction specialist and medical director of My Way Out, wrote the forward to Jewell's book. In it, she describes her own mother's struggle with alcohol dependence. She says advances in research, along with a better understanding of the addicted brain, are helping physicians develop more effective strategies to help their patients.
"We now have an opportunity to reach out to individuals and offer them tools to achieve a desired level of drinking or complete abstinence," says Garcia. "My mother didn't have access to those tools, but my patients do."
So does everyone who reads this book says Jewell, and that's why she believes it's doing well in the marketplace.
"People want very much to take control of this problem because it's a devastating condition. Often they've had nowhere to turn," says Jewell. "I am very proud to be part of a new movement in which problem drinkers and alcoholics are given entirely new choices and are issued the respect they deserve when they begin their important journey on the road to recovery."
###