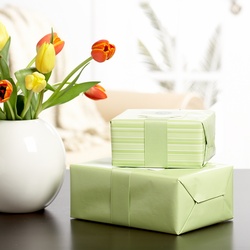 Amazon.com is committed to being Earth's most customer-centric company, and we are pleased to offer customers low prices, a vast selection, and the additional convenience of finding and using Amazon.com Wedding Registries on WeddingChannel.com.
LOS ANGELES (PRWEB) February 27, 2008
Adding to its already extensive list of top-name retailers, such as Macy's, Tiffany & Co., and Pottery Barn, registrants on WeddingChannel.com will now have access to the millions of products available in over 40 categories at Amazon.com. Amazon.com Wedding Registries offer everything from traditional registry items such as kitchen appliances and bedding to lifestyle-oriented offerings such as electronics, sporting goods, and apparel, with millions of products available for FREE Super Saver Shipping and Amazon Prime.* Customers looking for Amazon.com Wedding Registries will be able to find them on both WeddingChannel.com and Amazon.com.
"The addition of the Amazon.com Wedding Registries to our offerings further establishes WeddingChannel.com as the ultimate, one-stop destination for couples and wedding guests to register for and buy wedding gifts," said Didi Engel, WeddingChannel.com vice president of registry. "With more than 2.2 million registries from 20 premier retailers searchable in our database, it's never been easier for the millions of gift buyers to find, purchase, and ship the perfect wedding gift using our patented gift registry search engine anytime and anywhere."
"We are very excited to team up with WeddingChannel.com," said Eva Manolis, Amazon.com vice president of retail customer experience. "Amazon.com is committed to being Earth's most customer-centric company, and we are pleased to offer customers low prices, a vast selection, and the additional convenience of finding and using Amazon.com Wedding Registries on WeddingChannel.com."
To make finding a couple's registry even easier, when guests look for a couple's wedding registry on Amazon.com Wedding Registries, they can also continue their search for the perfect gift through the use of a unique WeddingChannel.com registry search tool. Wedding guests can then easily find gifts that couples may have registered for at other exclusive WeddingChannel.com retailer partners. This service-oriented experience fulfills Amazon.com's commitment to meet customer needs and provide the greatest selection and convenience possible.
"Teaming up with Amazon.com showcases how WeddingChannel.com is truly dedicated to offering the most comprehensive registry network in the world," added Engel. "The suite of registry programs on WeddingChannel.com, ranging from traditional retailer offerings to honeymoon registries and the Charity Donation Program, ensures that couples will find all the products necessary to suit their individual lifestyles."
For more information on the registry programs available at WeddingChannel.com, visit the WeddingChannel.com Registry Center at http://www.weddingchannel.com/registry.

NOTE TO EDITORS: For interviews with an expert or executive from WeddingChannel.com, further information on the WeddingChannel.com registry offerings, or to obtain statistics, tips, checklists, or high-resolution photos, contact Jacalyn Lee, Public Relations Manager, at 212.515.1598 or jlee@weddingchannel.com.
About WeddingChannel.com
WeddingChannel.com is the number one wedding and gift registry website, offering comprehensive wedding planning content, interactive tools and a central location for couples to manage their gift registries. The patented registry system on WeddingChannel.com brings together registries from the nation's leading retailers, including Tiffany & Co., Bloomingdale's, Macy's, Crate and Barrel, and Pottery Barn, among others, allowing guests to search one easy site to find a wedding gift. WeddingChannel.com is based in Los Angeles and is a part of The Knot Inc. (NASDAQ: KNOT) lifestage media network.
About Amazon.com
Amazon.com, Inc., (NASDAQ: AMZN), a Fortune 500 company based in Seattle, opened on the World Wide Web in July 1995 and today offers Earth's Biggest Selection. Amazon.com, Inc. seeks to be Earth's most customer-centric company, where customers can find and discover anything they might want to buy online, and endeavors to offer its customers the lowest possible prices. Amazon.com and other sellers offer millions of unique new, refurbished and used items in categories such as books, movies, music & games, digital downloads, electronics & computers, home & garden, toys, kids & baby, grocery, apparel, shoes & jewelry, health & beauty, sports & outdoors, and tools, auto & industrial.
Amazon Web Services provides Amazon's developer customers with access to in-the-cloud infrastructure services based on Amazon's own back-end technology platform, which developers can use to enable virtually any type of business. Examples of the services offered by Amazon Web Services are Amazon Elastic Compute Cloud (Amazon EC2), Amazon Simple Storage Service (Amazon S3), Amazon SimpleDB, Amazon Simple Queue Service (Amazon SQS), Amazon Flexible Payments Service (Amazon FPS), and Amazon Mechanical Turk.
Amazon and its affiliates operate websites, including http://www.amazon.com, http://www.amazon.co.uk, http://www.amazon.de, http://www.amazon.co.jp, http://www.amazon.fr, http://www.amazon.ca, and the Joyo Amazon websites at http://www.joyo.cn and http://www.amazon.cn.
As used herein, "Amazon.com," "we," "our" and similar terms include Amazon.com, Inc., and its subsidiaries, unless the context indicates otherwise.
Forward-Looking Statements
This announcement contains forward-looking statements within the meaning of Section 27A of the Securities Act of 1933 and Section 21E of the Securities Exchange Act of 1934. Actual results may differ significantly from management's expectations. These forward-looking statements involve risks and uncertainties that include, among others, risks related to competition, management of growth, new products, services and technologies, potential fluctuations in operating results, international expansion, outcomes of legal proceedings and claims, fulfillment center optimization, seasonality, commercial agreements, acquisitions and strategic transactions, foreign exchange rates, system interruption, significant amount of indebtedness, inventory, government regulation and taxation, payments and fraud. More information about factors that potentially could affect Amazon.com's financial results is included in Amazon.com's filings with the Securities and Exchange Commission, including its Annual Report on Form 10-K for the year ended December 31, 2007, and subsequent filings.