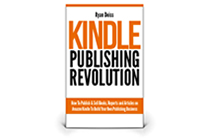 According to Digital Marketer, modern technology is revolutionizing the way people read books.
Austin, TX (PRWEB) August 23, 2012
To help create Amazon bestsellers, Digital Marketer is trailblazing their innovative new marketing approach with the Number One Book System, and has updated subscribers to the Great Kindle Challenge, an attempt at selling 10,000 Kindle eBooks in a matter of one week.
In the Great Kindle Challenge, lead publisher Ryan Deiss is showing how Digital Marketer works through the Kindle Direct Publishing process, and strives for a spot at the top of Amazon's eBook rankings.
The Great Kindle Challenge is showing people how to become number one on Amazon, and proving how simple it is to sell 100 Kindle books or more a day. In fact, the free-of-charge eBook "How to Sell 100 Books a Day" is also included in Digital Marketer's launch preparations, and it highlights every step in going from book idea to successful sales.
Whether it's widespread knowledge or not, eBooks are taking over the written content world, according to "How to Sell 100 Books a Day." Writers are finding out that they can get their books to the largest group of interested customers easily and efficiently by publishing through Kindle, and all it takes is some motivation and some easy-to-follow steps.
Digital Marketer has also released the Kindle Publishing Revolution, a report written by Deiss focusing on the power and influence Amazon and eBooks are having on the literary industry. Print books, though still holding on to a portion of the total book sales, have been surpassed by eBooks on Amazon. That means the first place people look for a book (Amazon) is also the place where they can start reading their choices within seconds. All it takes is a few clicks, and Amazon's stored credit card data is put to work.
All the while, writers can expect their generous royalty rates to start adding valuable income to their bank accounts, and watch as their online recognition and credibility skyrocket.
According to Digital Marketer, modern technology is revolutionizing the way people read books. A Kindle Fire, an iPad, or a run-of-the-mill PC turns any Internet connection into a vast library beyond traditional imagination. If it can be thought of, odds are there's probably an eBook on the subject.
Now that writers have an alternate option beyond the traditional print publishing deals, the Kindle Publishing Revolution is proving that multiple windows of opportunity are quickly opening. Amazon bestsellers hold a powerful advantage over any other book found on any other shelf, and the Number One Book System from Digital Marketer will show people how that's possible.
Digital Marketer releases informational and educational materials to help businesses and entrepreneurs gain insight and information on the trends, data, and strategies that can take them to the top of their industry. Through their RAW Training courses, strategic plans, blogs, newsletters, site reviews, and Special Reports, Digital Marketer supercharges every single marketing campaign it touches. For more information, visit DigitalMarketer.com.