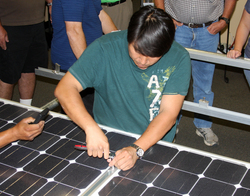 Murrieta, CA (Vocus) October 1, 2010
During the week of September 21st through 24th, 2010, Ambassador Energy experienced record attendance in its New Agency Training in Murrieta, CA, where they host their monthly proprietary four-day intensive solar photovoltaic boot camp-style training, led by NABCEP certified Steve Fulgham, the company's CEO. In this training alone, seven existing residential and commercial contracting companies, representing four US states, launched their new solar divisions through Ambassador Energy's offering. Upon graduating, each of the companies returned to their respective markets with a significant competitive edge as a residential and/or commercial solar PV integrator.
Ambassador Energy's New Authorized Agency Training program includes residential and commercial solar technology, sales and marketing, site analysis, string sizing, quoting, financing, and rebate filings. It culminates with a hands-on installation of an active 2-kilowatt solar PV system, which gives all new Ambassador Energy Authorized Agencies the opportunity to get their first installation under their belts. Upon return to their home market places, Ambassador Energy will also send field technicians to assist with their first installations there, assuring that they experience positive starts in their new product/service vertical.
With over 250 collective years of construction experience, Ambassador Energy's training facility was brimming with talent, expertise and enthusiasm. Throughout the four days of learning, laughing, scratching heads and sharing meals, the class evolved into a microcosm of the Ambassador Energy model. Mindshare, collective experiences and interactively supporting one another is the AE Culture, and the September 2010 graduating class was the model of it.
In attendance, and now fully authorized are: Apex Solar and Roofing, Oregon; CL Construction, California; South Pasa Roofing, California; Payne & Sons Construction, Arizona; Premier Roofing, California; Hong & Associates, Pennsylvania; Knudsen Roofing, California. Returning for continued training were Global Construction, Texas and CI Services, California. Guest speakers included: Ian Knox, Enphase Energy; Michael Blyzka, Schuco USA and Mike Williams, Ambassador Energy of North Texas.
About Ambassador Energy
Ambassador Energy has 30 Authorized Agencies in eight US states and provides a turnkey, consolidated platform of renewable energy training, support, product-agnostic distribution and evolving mindshare to a nationwide network of Ambassador Energy Authorized Agents, who are contractors and entrepreneurs augmenting their portfolios by offering renewable energy solutions to their clients.
Ambassador Energy offers their Agency Solar Training Program to qualified candidates. For information, contact Frank Saldana, Agency Relations Manager. New Agency Training is offered approximately once every four to six weeks.
###