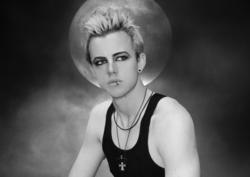 "All people deserve to be treated equally."
Newport Beach, CA (PRWEB) June 04, 2013
An unprecedented Gallup study involving more than 120,000 interviews finds that 3.4% of U.S. adults identify as lesbian, gay, bisexual, or transgender. It is from this demographic that Award-winning author Amber Lehman of the novel "Torn," is asking for support for her new LGBT novel via a Kickstarter campaign. Lehman's latest book, "Boy Out of Bounds," which deals with bullying and self-acceptance is a theme which every LGBT adult is likely to have firsthand experience. Lehman's goal is to enlist the support of people globally so that LGBT literature is available to youth. She hopes those who grew up struggling with these issues will step forward to help her reach her goal of educating today's youth by providing books with LGBT content.
Lehman is enlisting the support of the global community to reach outreach groups and LGBT centers that encourage understanding and acceptance nationwide, regardless of sexual preference. "Getting people to remember their youth and how alienated they may have felt, and having so few resources available to them, is key in this project. I know of the local centers around me, but need your support to help kids in small towns or Middle America—or anywhere for that matter—where the LGBT lifestyle is not supported. When you sponsor at a specific level, I'm able to send you 10 books (the maximum allowed on Kickstarter) so that you can send them to the LGBT center of your choice."
Lehman's goal is to have her new book, titled, "Boy Out of Bounds," available in libraries and for purchase online for young adults. Lehman's goal is to fund both the printed version and eBook version of her novel. Kickstarter is an all-or-nothing funding platform that offers rewards to backers of the project by the creator. Unless the entire funding goal is met, none of the money will go towards the project. Careful attention is paid to just how much money will be required to complete all of the campaign's goals and fulfill rewards to backers. Lehman says with her breakdown and calculations, it will take $8000 to fulfill the dream of completing her project. Reward levels are tiered in accordance to the amount donated.
"Boy Out of Bounds," centers around a boy struggling to come to terms with his sexuality, and overcome the fear of bullying. According to recent gay bullying statistics, gay and lesbian teens are two to three times more likely to commit teen suicide than other youths. About 30 percent of all suicides are related to sexual identity crisis. Students who fall into the gay, bisexual, lesbian or transgendered identity groups report being five times as more likely to miss school because they feel unsafe after being bullied due to their sexual orientation. About 28 percent out of those groups feel forced to drop out of school altogether. This topic segways hot on the heels of California's debate on whether to overturn Proposition 8, which bans legal marriage to same-sex couples. "What kind of future happiness can LGBT teens expect for themselves as adults when they are denied the right to a happy future in marriage with their loved one? This is just one more example of the alienation and prejudices against the LGBT community," Lehman says. "All people deserve to be treated equally." In "Boy Out of Bounds," various types of relationships are explored whether they be gay, bisexual, questioning or straight.
The kickoff date for "Boy Out of Bounds" on Kickstarter is on June 1, 2013 and will run for only 50 days. The last day to pledge and be a part of the project is on July 20th. To get involved and make a difference, become a backer today. Visit Lehman's Kickstarter page at : http://www.kickstarter.com/projects/amberlehman/boy-out-of-bounds
Closet Case Press is a publishing company founded by Amber Lehman and is dedicated to providing literature for the young adult, lesbian, gay, bisexual, transgender and questioning community. The website provides links to helpful sites for Young Adults who are trying to reach out to others or need help. http://www.ClosetCasePress.com