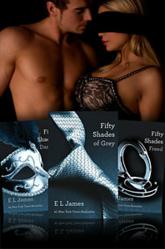 The books make you think about sex again and how important it is to a relationship
Cleveland, OH (PRWEB) May 22, 2012
The erotic "Fifty Shades" trilogy by E.L. James has held the top three spots on The New York Times list of best-selling paperback fiction for several weeks. Women in northeast Ohio are buzzing about the books, which follow the tempestuous love affair between Christian Grey and Anastasia Steele. For many women the novels are more than just a good read: The fiction has helped re-ignite the fire in their relationships.
"The books make you think about sex again and how important it is to a relationship," says Louise B., a Rocky River resident who has been married for more than 30 years. She read "Fifty Shades of Grey" on a recent vacation and is halfway through the second book, "Fifty Shades Darker." "The books have totally enhanced my sex life—totally!"
While Louise says she has a great marriage, she admits finding time for intimacy often takes a back burner to work or family events with their grown children. "The books have renewed me," she says. There's more passion in the bedroom, which has rejuvenated her marriage.
"I've heard from so many women like Louise who are re-connecting with their husbands after reading the books," says Jennifer Downey, president of Ambiance, the Store for Lovers. "It's wonderful that the 'Fifty Shades' trilogy is inspiring women to tap into their passions. A healthy love life is key to a happy marriage."
In recent weeks, Ambiance has in its Sex-and-Mischief line, including sex slings and crops. Louise is not surprised that couples head to Ambiance after reading the heated novels. She and her husband may try a couple new sex toys—though her lips are sealed on the particulars. "We all need a little erotica in our lives," says Louise.
Since 1981, woman-owned Ambiance, The Store for Lovers has been enhancing the love lives of committed couples at stores throughout northeast Ohio. Ambiance has won numerous awards for its world-class customer service as well as its commitment to the communities it serves. Ambiance has 8 locations in Ohio and can be found online at Ambiance.com.