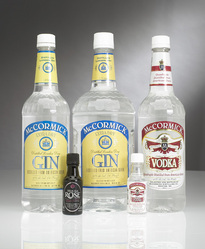 From the plant perspective alone, McCormick is a great client
Ann Arbor, MI (PRWEB) August 19, 2009
The combination of Amcor's state-of-the-art PCR manufacturing capabilities and McCormick's leadership in advancing environmental issues creates the potential for an effective collaboration. At 15 percent PCR, McCormick Distilling will consume over a half million pounds of PCR annually, the equivalent of more than 7.5 million PET bottles collected in curbside and deposit programs and diverted from landfills.
"We couldn't be happier with Amcor," said Jim Zargo, President and COO of McCormick Distilling. "Simply put, they help us sell more in the market. They're a full service vendor on the forefront of customer relations and innovation." One such innovation resulted in the highly successful launch of a 100 percent PCR container for McCormick's 360 Vodka --a liquor industry first.
McCormick's 360 bottle is manufactured at the Amcor PET Packaging plant in Nicholasville Kentucky, which will also produce the new 15 percent PCR lines. Within this advanced facility, which does everything from the preform to blow-molding of the containers, Amcor engineers combine technical expertise, innovative thinking and an unwavering commitment to ensure that color, shape and clarity is an exact match to customer expectations.
"From the plant perspective alone, McCormick is a great client," said Michael Warkentien, General Plant Manager, Nicholasville, KY. "We do a lot of development work with McCormick, and the 15 percent program is very exciting." For McCormick's Jim Zargo, the feeling is mutual.
"We saw what they were doing in the Nicholasville facility," said Zargo. "It's a dynamic, collaborative process. Like us, they're already working in the PCR arena, so it's a true partnership. And Amcor couldn't be a better partner."
Amcor's approach to the PCR business is a bit different than the competition. Instead of providing PCR to customers upon request, Amcor actively encourages its increased use in their products--something the majority of PET providers cannot do. Dave Clark, Amcor PET Packaging's Director of Sustainability, explained, "PCR requires extra attention and expertise because it is more difficult to work with than virgin PET. It really takes a commitment on behalf of the customer and on behalf of Amcor to go out and source this material, and make the investments to make food-grade recycled PCR. McCormick is very progressive in terms of their commitment to the environment - and here at Amcor we push technology, engineering and design through to solutions."
Amcor also requires an equally committed partner. McCormick Distilling is the perfect example. Lynne Brophy, Amcor PET Packaging Wine & Spirits Account Manager and Business Development, commented, "We work together with McCormick to ensure we end up with a solid product offering for their market. They're always willing to go the extra mile. We challenge each other to push the boundaries."
About Amcor PET Packaging: Amcor PET Packaging is the leading manufacturer of PET (polyethylene terephthalate) plastic packaging for the global beverage, food and non-food industries with 60 facilities in 12 countries. Its parent company, Amcor Limited, offers a range of packaging solutions and ranks as one of the top three packaging companies in the world. Headquartered in Melbourne, Australia, Amcor's extensive operations include 217 plants in 34 countries and, for the fiscal year ending June 30, 2008, reported sales revenues of $7.5 billion (U.S.). For more information, visit amcor.com.
###