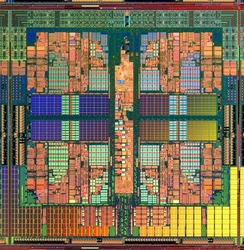 Quad-Core AMD Opteron processor-based servers deliver energy-efficiency even in the context of satisfying IBM's most demanding high-performance computing solutions
SUNNYVALE, Calif. (PRWEB) May 28, 2008
"Quad-Core AMD Opteron processor-based servers deliver energy-efficiency even in the context of satisfying IBM's most demanding high-performance computing solutions," said Randy Allen, senior vice president, Computing Solutions Group, AMD. "Datacenter managers are increasingly seeking a balance of performance, energy-efficiency, and advanced virtualization functionality in order to optimize server resources amidst skyrocketing power, cooling and space costs. The Quad-Core AMD Opteron processor is at the forefront of addressing this new real-world definition of datacenter performance."
"IBM continues to deliver innovation and choice in the x86 market with today's introduction of System x servers based on AMD's new Quad-Core processors," said James Northington, vice president, IBM System x. "The new System x3755 allows clients to grow the system along with their business, affordably scaling from the standard 2 socket system to 3 and 4 socket configurations while delivering industry leading price and performance."
IBM has refreshed its current line of rack-mount AMD Opteron processor-based System x servers. These include the x3455 which is ideal for technical and financial applications, the x3655 for memory-intensive applications such as database, virtualization and dynamic web serving, and the x3755 that takes advantage of AMD's Direct Connect Architecture to speed scientific and technical computing through breakthrough performance with outstanding memory addressability in high performance computing (HPC) environments.
Visit AMD on the Web
For more information on the Quad-Core AMD Opteron processor family, including FAQs, development tools, pricing and other general information, please visit http://www.amd.com/opteron.
About AMD
Advanced Micro Devices (NYSE: AMD) is a leading global provider of innovative processing solutions in the computing, graphics and consumer electronics markets. AMD is dedicated to driving open innovation, choice and industry growth by delivering superior customer-centric solutions that empower consumers and businesses worldwide. For more information, visit http://www.amd.com.
AMD, the AMD Arrow logo, AMD Opteron and combinations thereof, are trademarks of Advanced Micro Devices, Inc. Other names are for informational purposes only and may be trademarks of their respective owners.
MULTIMEDIA GALLERY http://www.businesswire.com/cgi-bin/mmg.cgi?eid=5695264