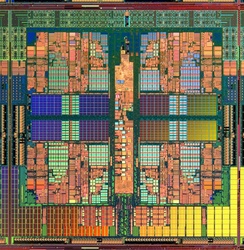 Our new Quad-Core AMD Opteron HE processors were designed to help datacenter managers who see power consumption and virtualization as the keys to solving their overall performance equation
SUNNYVALE, Calif. (PRWEB) May 11, 2008
"Our new Quad-Core AMD Opteron HE processors were designed to help datacenter managers who see power consumption and virtualization as the keys to solving their overall performance equation," said Randy Allen, corporate vice president and general manager, Server and Workstation Division, AMD. "These new processors which feature AMD's advanced power management and virtualization innovations offer a compelling platform for power-conscious datacenter managers who are changing the way they think about performance."
Quad-Core AMD Opteron HE processors are available in both the 2300 and 8300 Series for two-, four- and eight-way rack servers and blades. The new processors have set new performance records among comparable x86 energy-efficient processors, such as top scores for SPECfp_rate2006 in both two- and four-processor configurations, offering businesses of all sizes the exceptional scalability and efficiency benefits of AMD's unrivaled Direct Connect Architecture.
Visit AMD on the Web
For more information on the Quad-Core AMD Opteron processor family, including FAQs, development tools, pricing and other general information, please visit here.
About AMD
Advanced Micro Devices (NYSE: AMD) is a leading global provider of innovative processing solutions in the computing, graphics and consumer electronics markets. AMD is dedicated to driving open innovation, choice and industry growth by delivering superior customer-centric solutions that empower consumers and businesses worldwide. For more information, visit http://www.amd.com.
AMD, the AMD Arrow logo, AMD Opteron and combinations thereof, are trademarks of Advanced Micro Devices, Inc. Other names are for informational purposes only and may be trademarks of their respective owners.