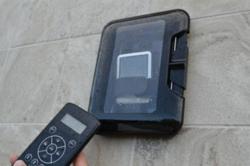 Enjoying music while relaxing in a steam bath allows a person to escape and to enjoy 'your moment'.
Woodinville, WA (PRWEB) March 17, 2012
Amerec introduces the new iPod Docking Station and waterproof speakers for use in steam baths or showers.
The Amerec iPod Docking Station is waterproof and provides a docking station for an iPod or iPhone, with an auxiliary input for other MP3 players. Designed with a wireless remote control with display for current track and other features, the Amerec iPod Docking Station allows a bather to control the volume, song selection, audio input, and other functions on an iPod or iPhone from across the shower or steam bath. For non-Apple products, the remote control adjusts volume and power on/off. Since the docking station is waterproof, it is ideal for almost any wet environment. The iPod docking station also includes a built-in FM tuner if the bather decides they would like to listen to local radio instead.
To complete the package, Amerec also introduces the 6"x9" Premium Waterproof Speakers. Offering contemporary design, superior sound quality, and a low profile mount, the speakers are designed to complement the shower. Grills cover the mounting screws for a clean appearance.
For more information on the Amerec iPod Docking Station and Premium Waterproof Speakers, contact your local dealer, or call 1-800-331-0349.