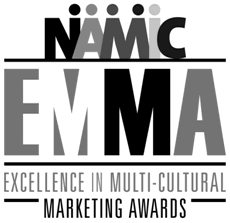 "The EMMA's are a standard for excellence in cross-cultural marketing communications...we are excited to win this recognition for seven straight years!" Pawan J Mehra, founder and principal of Ameredia
San Francisco, CA (PRWEB) August 30, 2012
Améredia won four Excellence in Multicultural Marketing Awards (EMMA), marking its seventh consecutive year of recognition from the National Association for Multi-Ethnicity in Communications (NAMIC). The EMMA award recognizes marketing efforts designed to acquire and retain culturally diverse consumers including African American, Asian, Hispanic and other diverse market segments. The award ceremony will take place in New York City on September 11th during Diversity Week and at the 26th Annual NAMIC Conference "Diversity 4: Culture. Audience. Innovation. Leadership".
The EMMAs recognize the cable industry's commitment to developing strategic and innovative approaches to ethnic-targeted marketing, while maintaining an exceptional level of creativity. The competition is comprised of two award categories Marketing Tactics and Case Campaigns. Entries in each category are judged within two divisions: Cable Distributors and Networks/Industry Suppliers. Entries were judged on sound and innovative strategy, strength of execution against the strategy, evaluations of strategy, implementation and results.
"The EMMAs are now a standard for excellence in cross-cultural marketing communications," said Pawan J. Mehra , founder and principal of Améredia. "We are proud of our team and partners and are excited to win this recognition for seven straight years".
Améredia's award winning pieces for 2012 EMMAs were:
First Place
Client: Comcast
Entry: Multilingual On Screen Guide
Category: Marketing Tactics, All Other Media
Client: Comcast
Entry: Chinese Authorized Dealer Experience
Category: Marketing Tactics, Print
Second Place
Client: Comcast
Entry: TV JAPAN Cherry Blossom 2012
Category: Marketing Tactics, Direct Mail
Third Place
Client: Comcast
Entry: XFINITY Carefree Minutes Worldwide300 Multicultural DM
Category: Marketing Tactics, Direct Mail
The awards will be added to Améredia's list of industry-wide recognitions that include Davey, Telly, Hermes, Mark, MarCom, Mosaic awards, among others for creative executions. The Agency's diversity vision has been recognized recently with Awards such "Top 500 Business in America", "Top Diverse Business in America", "Top Women Owned Business" and "Fast 50 Asian American Business". As America becomes more diverse, Améredia is taking lead in understanding and connecting with the nation's diverse population and bringing them closer to corporate America.
Additional Information regarding the Excellence in Multi-cultural Marketing Awards is available online at http://www.emmacompetition.com.
About NAMIC
NAMIC (National Association for Multi-ethnicity in Communications) is the premier organization focusing on multi-ethnic diversity in the communications industry. Founded in 1980 as a non-profit trade association, today NAMIC comprises 2,000 professionals belonging to a network of 18 chapters nationwide. Through initiatives that focus on education, advocacy and empowerment, NAMIC champions equity and inclusion in the workforce, with special attention given to ensuring that the leadership cadres of our nation's communications industry giants reflect the multi-ethnic richness of the populations they serve.
About Améredia
Améredia Inc. is a full-service multicultural advertising, marketing and communications firm specializing in targeting the diverse US demographics based on unique nuances of each group. The agency enables private, government and non-profit organizations to connect with Hispanics, Asians, Europeans, Middle Easterners, Pacific Islanders, Africans, LGBT and other diverse emerging groups nationwide. Conceptualizing culturally-engaging campaigns across print, TV, radio, online, outdoors, events, grassroots and social media platforms in over 20 leading languages, Améredia is one of the fastest-growing multicultural marketing agencies nationwide.
###