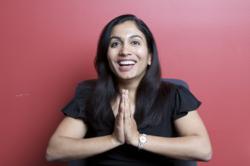 We are honored to be selected for this recognition and we envision fostering entrepreneurship among more women within our industry
San Francisco, CA (PRWEB) August 28, 2012
Multicultural marketing agency Améredia was selected by San Francisco Business Times as a "Top 100 Women Owned Businesses in the Bay Area." Agency's president and creative director Sam Jhans will be awarded alongside other entrepreneurs, visionaries and leaders at the Top 100 Women Owned Business Awards on September 28th 2012, from 11:30 a.m. to 1:30 p.m. PST at the St. Regis Hotel in San Francisco.
The "Top 100 Women Owned Businesses in the Bay Area" list recognizes women executives and pioneers in the Bay Area. The 100 dynamic women listed are driving the largest women owned businesses in the region and are described as a role model to aspiring female entrepreneurs. Final rankings will be revealed in a special Women Owned Business report in the September 28 edition of the San Francisco Business Times.
As President and Creative Director of Améredia, Sam Jhans oversees agency's strategic growth and provides creative direction to the firm for campaigns directed towards diverse markets including Hispanic, African American, Asian American, and LGBT. Sam has lead the agency's growth from its inception in 2003 to its recognition today as the fastest growing diverse market agencies in the country. In an industry lacking women leadership, Sam stands out as an inspirational role model.
"Diversity is at the core of our organization and an integral part of our existence by the very nature of our work – multicultural advertising, marketing and communications. We are honored to be selected for this recognition and envision fostering entrepreneurship among more women within our industry."
Sam Jhans continues to serve the advertising industry and the minority business community through support of diverse organizations, mentoring future business leaders, providing internships and learning opportunities, speaking engagements and contributing to the growth of the agency's diversity vision by supporting client's marketing communications within diverse communities nationwide.
About San Francisco Business Times
The San Francisco Business Times is the premier print and online source for Bay Area business news and information on the most successful people, companies and transactions in the region. Business Times provides an in-depth lineup of breaking local news stories, business profiles and valuable industry rankings. From technology and sustainability to small business, biotech, hospitality, real estate and banking, the Business Times covers the most relevant and timely topics for the Bay Area business community. SanFranciscoBusinessTimes.com takes the Business Times brand known for its insight, analysis and high journalistic standards and extends it to the Internet.
About Améredia
Améredia Inc. (http://www.ameredia.com) is a full-service multicultural advertising, marketing and communications firm specializing in targeting the diverse US demographics based on unique nuances of each group. The agency enables private, government and non-profit organizations to connect with Hispanics, Asians, Europeans, Middle Easterners, Pacific Islanders, Africans, LGBT and other diverse emerging groups nationwide. Conceptualizing culturally-engaging campaigns across print, TV, radio, online, outdoors, events, grassroots and social media platforms in over 20 leading languages, Améredia is one of the fastest-growing multicultural market agencies nationwide.