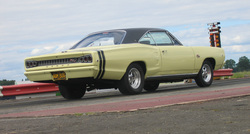 We are delighted to be sponsoring the American Super Stock 2009
(PRWeb UK) July 23, 2009
Adrian Flux Insurance Services is sponsoring the American Super Stock 2009 race series. These races, held on the York Raceway throughout the summer months, are the UK's biggest classic and modern American muscle drag racing series.
"We are delighted to be sponsoring the American Super Stock 2009," says Gerry Bucke of Flux. "We specialise in insuring niche market motors and have many American monsters on our books, often as hobby vehicles but sometimes as people's main method of transport."
Owners of these American imports, in common with owners of other cars not built for the UK market, encounter a lot of problems getting their vehicles insured. But Flux offers highly competitive insurance on imports and has long experience in providing cover for vehicles other companies have refused to touch.
"Whether it's a Ford, a Chevy or a large pink Cadillac we can arrange cover," says Bucke. "We also offer generous discounts of up to 15 per cent to recognised owner's clubs members and have other discount schemes to keep premiums down."
Nothing matches the American Super Stock Series for competitive thrills and fun. Cars taking part are from the great era of American car manufacture - the 60s and 70s - mostly high performance V8-powered cars and trucks.
"These cars produce a phenomenal performance," says Bucke. "Open headers, slicks and nitrous oxide injection are all permitted so they really go – it's motoring as it should be."
For more information on the American Super Stock 2009 series and details of cars and events visit http://americansuperstock.co.uk .
Adrian Flux aims to offer cheaper car insurance and has a huge range of policies for the motoring enthusiast. For details contact the Adrian Flux quote line on 0800 505 3000, email the company at quotes (at) adrianflux (dot) co (dot) uk or see the Flux homepage on http://www.adrianflux.co.uk
American Super Stock Series 2009.doc - Jul-09
PRESS ENQUIRIES:
Toni Turner or Alison Haynes at The Publicity Works
Tel: 01263 761000 Email: flux (at) publicityworks (dot) biz
Gerry Bucke of Adrian Flux Insurance Services: 0800 505 3000
Editors notes:
Flux offers a huge range of insurance schemes for American car owners. Of special interest is Flux's Agreed Value cover. Flux agrees the value of the car with the owner and offers cover for its true value, not necessarily its market value, so owners don't get a nasty surprise if they need to make a claim. Similarly many owners like to modify their American motors and Flux has a policy that ensures that the car is covered with like for like replacements.
Other useful policies offer by Flux include laid-up policies – so the car is fully protected while it is off the road being restored, and limited mileage discounts for those cars only taken out on weekends and holidays. Plus, for those super-duper showy vehicles wedding hire cover can also be arranged.
###