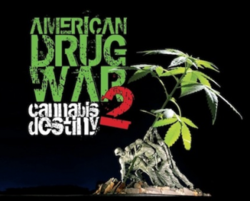 It's time for someone to look Mike Hyde in the eyes and tell him why he lost his 4-year-old son
San Francisco, CA (PRWEB) June 06, 2013
From cannabinoid patents held by big pharmaceutical companies to hundreds of thousands of cannabis-related arrests each year, the war on drugs seems to be benefiting someone. But what about the innumerable cancer patients, many of whom are barely taking their first steps, who are denied access to relief every day? 2) American Drug War 2: Cannabis Destiny, now in theaters, asks, "Who is America's longest running war really helping?"
Produced in association with United Patients Group, the latest documentary from filmmaker Kevin Booth is now playing in select theaters across the country. It follows the increase in pediatric cancer cases and the continuous push to keep the medical benefits of cannabis away from the people who need it the most. 3)
It questions the motives behind the 800,000 cannabis related arrests each year, the 2003 patent on cannabinoids held by the government, 4) the similar US patent application by overseas giant GW Pharmaceuticals, the restriction of cannabis oil as a cancer treatment in the case of young Cash Hyde, and the lies American people are told every day.
American Drug War 2: Cannabis Destiny overturns stones that powerful people have tried to hide the truth under. It takes a real look inside the history of marijuana and how this war got started. It shows how far cannabis has come over the years, and how far it still has to go.
"The truth is that we have seen, time and time again, that cannabis has the power to kill cancer cells," 5) said Booth. "Here we are, with documented cases of cannabis sending cancer into remission, with a little boy whose life was stripped away when traditional Western medicine failed him, and the solution is there but we can't have access to it? 6) It doesn't make sense."
"It's time for someone to look Mike Hyde in the eyes and tell him why he lost his 4-year-old son. Why the only treatment that worked – that he proved actually worked – was discouraged by doctors and banned by the government," Booth continued. "There are answers out there and we're going to find them."
American Drug War 2: Cannabis Destiny is giving people the chance to host a screening in their cities. For the list of cities where the film is currently available and more information about how to host a screening, visit http://www.tugg.com/titles/american-drug-war-2.
To support the Cash Hyde Foundation's mission of ending pediatric cancer, visit http://www.cashhydefoundation.com/donations.php.
Footnotes:
1) trutv.com/conspiracy/in-the-shadows/pot-illegal/big-pharma-government.html
2) google.com/patents/US20130059018
3) justice.gov/dea/druginfo/ds.shtml
4) uspatent6630507.com
5) cancer.gov/cancertopics/pdq/cam/cannabis/healthprofessional/page4
6) cancer.gov/cancertopics/pdq/cam/cannabis/healthprofessional/page4
For more information about the film or about UnitedPatientsGroup.com, call (415) 524-8099 or visit UnitedPatientsGroup.com.
The best way to stay informed about developments is to "like" United Patients Group on Facebook and "follow" Untied Patients Group on Twitter.
About UnitedPatientsGroup.com
UnitedPatientsGroup.com is a discreet, safe, and professional online medical cannabis information resource for prospective and current patients, caregivers, and medicinal cannabis industry professionals.
While most online medical marijuana sites cater to patients already familiar with medical marijuana, the UnitedPatientsGroup.com website is a comprehensive and easy-to-use information source for people of all ages and experience levels, from novice medical cannabis users to experienced industry professionals. The site's News, Resource, and Blog pages introduce new patients to the ins and outs of medical marijuana healthcare, while helping experienced providers stay abreast of the latest developments in THC and CBD therapies.
A complimentary Five Star-rated United Patients Group medical marijuana app is available on the iTunes app store for iPhone 3GS, iPhone 4, iPhone 4S, iPhone 5, iPod touch (3rd generation), iPod touch (4th generation) and any iPad.