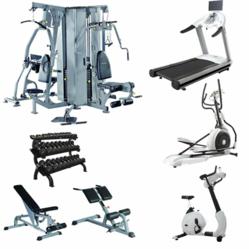 We are pleased to be able to offer them high quality and affordable fitness equipment packages to help support the success of their businesses.
Portland, OR (PRWEB) November 15, 2011
American Fitness is introducing a series of fitness equipment packages designed to help new fitness centers, health clubs, and gyms outfit their facilities with quality commercial fitness equipment. A survey of new fitness center owners by AmericanFitness.net found that selecting the right exercise equipment for their facilities is a top concern. New gyms are interested in getting a good value for their start-up budgets, while also ensuring customer satisfaction. The exercise equipment needs to be known brands of top quality and durability that delivers results. Matching or coordinating equipment from a few select brands is helpful in conveying a professional and organized image, especially for new facilities looking to recruit customers.
American Fitness has developed a series of fitness equipment packages focused on the most popular types of exercise equipment typically found in a multi-user health club, gym, or fitness center. The packages are available in a variety of configurations of strength training equipment, cardio equipment, or a mix of both. They are comprised of high quality commercial fitness equipment, which is specially designed to withstand the rigors of a multi-user environment. By combining the equipment into packages, AmericanFitness.net is able to offer additional discounts over the cost of purchasing the equipment individually.
"New fitness center owners are faced with lots of decisions, from how to attract customers to outfitting their facilities," said Ron Thompson, President of American Fitness. "It can be challenging to determine which equipment to purchase, especially when working with a start-up budget. We are pleased to be able to offer them high quality and affordable fitness equipment packages to help support the success of their businesses."
The packages available at AmericanFitness.net include a selection of weight packages, such as free weights, kettlebells, weight racks, weight benches, and other weight sets. Cardio packages include different combinations of elliptical cross trainers, treadmills, and exercise bikes. There is also a complete start-up fitness center package with the essential exercise equipment required to get a new gym or health club up and running. This package was developed based on American Fitness' extensive experience working with health club and other gym owners to compile a list of core exercise equipment desired by their customers. It takes the guesswork out of having to choose individual equipment and better ensures all basic fitness needs will be met. Pieces in this package were selected for quality, popularity, and the ability to fit even in compact fitness facilities.
The fitness equipment packages are designed for start-up fitness facilities, but also offer value to existing facilities looking to replace outdated or worn out equipment. These include fitness centers in schools, hotels, and workplace environments, such as corporate offices, fire departments, or military bases. Many of the packages are ideal, as well, for expanding fitness facilities looking to complement their existing assortment of commercial fitness equipment.
AmericanFitness.net is a leading retailer of home and commercial fitness equipment. Headquartered in Portland, Oregon, American Fitness is the chosen provider of fitness and exercise equipment for schools, hotels, public service agencies, and US military organizations across the United States and abroad. AmericanFitness.net specializes in custom gym and fitness center design using top brand equipment including home gyms, treadmills, elliptical trainers, weights, and other popular exercise equipment. With a focus on service and customer satisfaction, American Fitness seeks to support individuals and organizations in achieving fit and healthy lifestyles. For more information, please visit the company's website at http://www.americanfitness.net.
###