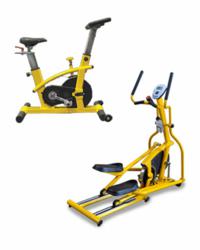 At American Fitness, we are excited to help individuals of all athletic levels in achieving their health goals.
Portland, Oregon (PRWEB) July 26, 2012
American Fitness, a premier supplier of consumer and commercial fitness equipment, celebrates athletic achievements and the start of the 2012 Summer Olympic Games with special deals on exercise equipment. For a limited time, AmericanFitness.net will offer deals on products from FMI Fitness Master to support individuals and groups in achieving their own personal health goals while cheering on the athletes of the London Olympiad. The deals include free shipping in the continental United States on some of Fitness Master's most popular cardio and strength training equipment, such as treadmills, ellipticals, exercise bikes, and weight training machines. Both the Fitnex and Steelflex brands are part of the sale. Commercial grade products from both of these lines are also available for inclusion in custom quotes for school athletic departments and other group workout facilities – just in time for the fall sports season.
"Competing at an elite level requires hard work, focus, and determination," said Ron Thompson, President of AmericanFitness.net. "Watching athletes overcome obstacles to achieve their dreams is truly inspiring. At American Fitness, we are excited to help individuals of all athletic levels in achieving their health goals. Whether you are looking for home or professional use equipment, our limited time deals on Fitness Master products are ideal for every budget. With their top quality design, we look forward to recommending the Fitnex and Steelflex commercial fitness equipment products for many of our demanding school, military, and firefighter customers."
The Fitnex brand includes a range of quality cardio exercise equipment, including ellipticals, treadmills, and exercise bikes. Many offer space saving designs, which are ideal for workout rooms at schools, hotels, condominiums, and police and fire departments. For kids and teens, Fitness Master has designed the Fitnex X5 kids bike and the new XE5 kids elliptical. These are uniquely sized to support healthy living and weight management among younger generations. The Steelflex brand includes a broad range of heavy-duty, commercial products. In addition to cardio equipment, Steelflex includes plate-loaded strength training machines and hydraulic strength equipment designed for both the rehabilitation and weight training markets.
About American Fitness
American Fitness is a leading retailer of home and commercial fitness equipment. Headquartered in Portland, Oregon, AmericanFitness.net is the chosen provider of equipment for schools, hotels, public service agencies, and US military organizations across the United States and abroad. The company specializes in custom gym and workout room design using popular, top brand exercise equipment. With a focus on service and customer satisfaction, American Fitness seeks to support individuals and organizations in achieving fit and healthy lifestyles. For more information, please visit the company's website at http://www.americanfitness.net.