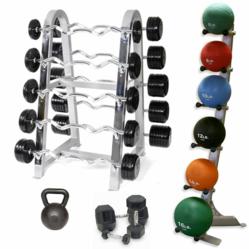 These customers recognize the importance of maintaining fitness on the job and are looking for ways to strength train as efficiently as possible
Portland, OR (PRWEB) December 20, 2011
American Fitness, a premier supplier of fitness equipment serving customers across the United States and internationally, has seen an increasing trend towards free weights as the preferred type of exercise equipment for public service organizations requiring high levels of fitness, such as police and fire departments. These types of professions require strength, endurance, and agility to perform lifesaving and public safety tasks. Because work days can be very long, with few breaks for going to a commercial gym or health club, many local governments and municipalities are bringing exercise equipment into the workplace at police and fire departments. American Fitness has increased the number and variety of this type of equipment available at AmericanFitness.net to meet this increase in demand.
Firefighting and police work is demanding on the entire body. People in these professions must be ready to jump into action at a moment's notice and be able to respond physically and mentally to any obstacle that may arise. To cut down on training time and boost strength and endurance, American Fitness has seen many of them turn to cross training or functional training using free weights, such as dumbbells, barbells, kettlebells, and medicine balls. The first two are more traditional forms of strength training fitness equipment. Dumbbells are versatile strength training equipment that take up little space and can be used for a variety of arms, back, and chest exercises. Barbells are great for compound weightlifting exercises that work multiple muscles and joints. Barbells can be used to strengthen the core body and legs, which is important for firefighting and police activities such climbing stairs, running, and maintaining balance in challenging situations.
American Fitness has seen a big increase in the acquisition of kettlebells and medicine balls among police and fire departments. These types of free weights are ideal for functional training, or exercises that mimic activities done in the workplace. Firefighters are often required to run or climb while carrying heavy objects during emergencies. Kettlebell and exercise ball exercises can strengthen those muscles required for carrying heavy equipment or fire hoses. Lifts and swings with these types of exercise equipment can also mimic picking up heavy objects and carrying them overhead, which is sometimes required with rescued people and pets.
"We have seen a definite trend towards the purchase of free weights for in-house fitness equipment by police and fire departments," said Ron Thompson, President of AmericanFitness.net. "These customers recognize the importance of maintaining fitness on the job and are looking for ways to strength train as efficiently as possible. We have expanded our assortment to meet this demand and look forward to continuing to recommend them for our police and fire department customers."
American Fitness is a leading retailer of home and commercial fitness equipment. Headquartered in Portland, Oregon, AmericanFitness.net is the chosen provider of fitness and exercise equipment for schools, hotels, public service agencies, and US military organizations across the United States and abroad. AmericanFitness.net specializes in custom gym and fitness center design using top brand equipment including home gyms, treadmills, elliptical trainers, weights, and other popular exercise equipment. With a focus on service and customer satisfaction, American Fitness seeks to support individuals and organizations in achieving fit and healthy lifestyles. For more information, please visit the company's website at http://www.americanfitness.net.
###