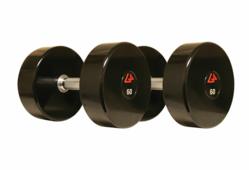 The American-made components and assembly are a plus for those institutional customers with specific manufacturing requirements.
Portland, OR (PRWEB) January 25, 2012
American Fitness, a premier supplier of fitness equipment serving schools, fire departments, the US military, and other government organizations, announces the addition of GP Industries to its list of preferred manufacturers of high end commercial fitness equipment. A broad selection of GP Industries' free weights, including dumbbells, barbells, and Olympic bars and plates will be available at AmericanFitness.net. GP Industries was selected by American Fitness for its focus on quality, advanced technology, and value, as well as the products' suitability for use in multi-user and institutional environments. Key components of GP Industries' commercial fitness equipment products are manufactured, tested, and assembled in the United States, making them ideal for GSA contracts and other government purchases. The products will complement American Fitness' existing selection of strength training exercise equipment.
The products available at AmericanFitness.net will include GP Industries' high quality dumbbells, barbells, and Olympic plates and bars. These free weights are manufactured with top quality materials and precision castings for maximum durability, reliability, and performance. They feature American-made handles and bars, high end machine work with tight tolerances, and strong assembly systems. The dumbbells include one of two handle designs. The first is a steel handle and locking system with a slack adjustment for retightening connections following repeated dropping of a dumbbell. The second is a patented high strength steel spline handle where the handle to head connection actually gets strong the more a dumbbell is dropped. The dumbbells, as well as the barbells and Olympic plates, are available in either rubber or high end, tear-resistant urethane coatings. Olympic bars are available in International Power Lifting Federation (IPF) or International Weightlifting Federation (IWF) specifications and come with a chrome or high grade, rust-resistant stainless steel finish.
"We are pleased to be able to offer GP Industries' commercial fitness equipment products to our customers requiring high end fitness training solutions," said Ron Thompson, President of American Fitness. "Their free weights feature quality components and construction designed to withstand the rigors of repeated, heavy duty use. The American-made components and assembly are a plus for those institutional customers with specific manufacturing requirements. This includes government or GSA contract purchases. They are a natural complement to American Fitness' full selection of quality, durable exercise equipment. We look forward to recommending GP Industries' free weights for many of our high performance customers, such as the US military, police and fire departments, and school athletic programs."
About American Fitness
American Fitness is a leading retailer of home and commercial fitness equipment. Headquartered in Portland, Oregon, AmericanFitness.net is the chosen provider of fitness and exercise equipment for schools, hotels, public service agencies, and US military organizations across the United States and abroad. American Fitness specializes in custom gym and fitness center design using top brand equipment including home gyms, treadmills, elliptical trainers, weights, and other popular exercise equipment. With a focus on service and customer satisfaction, American Fitness seeks to support individuals and organizations in achieving fit and healthy lifestyles. For more information, please visit the company's website at http://www.americanfitness.net.
###