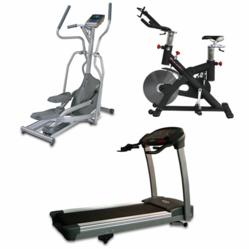 American Fitness aims to help our customers get back on track with healthy living.
Portland, Oregon (PRWEB) December 28, 2011
American Fitness, a premier supplier of fitness equipment serving consumers and commercial organizations, is focused on helping people achieve their health and wellness goals following a busy holiday season. Whether due to the cold winter months, overindulgence at holiday celebrations, or the stress of everything surrounding the holidays, many Americans get off track with healthy eating and exercise during the month of December. To help get fitness goals back in line, American Fitness has partnered with FMI Fitness Master to offer special savings on a range of exercise equipment, including home and commercial fitness equipment. The items available at AmericanFitness.net include treadmills, ellipticals, exercise bikes, and strength training machines from FMI Fitness Masters' most popular lines. The sale runs for a limited time only and includes free shipping in the continental United States.
For individuals looking to jump start a fitness routine or recover from a season of sugary and high fat foods, American Fitness recommends Fitness Master's Fitnex brand of exercise equipment. This light commercial fitness equipment line is ideal for both individuals and small group use, such as in hotels, apartment and condominium complexes, and workplace health centers. For those who live and work in cold winter areas, where regular travel to the gym can be hampered by snow, bringing exercise equipment in-house is a superb way to start and maintain a workout routine. The Fitnex E55SG elliptical offers a space saving design with quality construction for an excellent cardiovascular workout. Other popular choices include the Fitnex T60 treadmill, B70 exercise bike, R70 recumbent bike, or X Series Velocity bike. There is even an exercise bike designed specifically for kids and teens: the Fitnex X5 kids bike. This bike is just the right size to help kids get started exercising after an extended school holiday break.
For groups requiring a higher level of quality and durability, such as the military, fire departments, and athletic departments, American Fitness recommends Fitness Master's Steelflex brand of commercial fitness equipment. Many of these groups recognize the importance of exercise for their members, but may have had to delay purchases in recent months due to economic conditions. The special savings available on Steelflex at AmericanFitness.net can help meet any new budgetary requirements. The line includes plateloaded strength training machines, Aristo cardio equipment, and hydraulic strength equipment designed for both the rehabilitation and strength training markets.
"The holiday season can be a time of overindulgence and too little exercise," said Ron Thompson, President of AmericanFitness.net. "Add to this financial considerations due to economic conditions and it's not surprising that exercise has fallen down the priority list. With post-holiday savings on home and commercial fitness equipment, American Fitness aims to help our customers get back on track with healthy living."
American Fitness is a leading retailer of home and commercial fitness equipment. Headquartered in Portland, Oregon, AmericanFitness.net is the chosen provider of fitness and exercise equipment for schools, hotels, public service agencies, and US military organizations across the United States and abroad. AmericanFitness.net specializes in custom gym and fitness center design using top brand equipment including home gyms, treadmills, elliptical trainers, weights, and other popular exercise equipment. With a focus on service and customer satisfaction, American Fitness seeks to support individuals and organizations in achieving fit and healthy lifestyles. For more information, please visit the company's website at http://www.americanfitness.net.
###