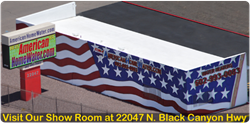 American Home Water (602) 993-0083, is now offering complete water softener and reverse osmosis systems in Phoenix and surrounding areas for less than $1,000.00. More information is available online at http://www.americanhomewater.com.
Phoenix, AZ (PRWEB) April 08, 2014
Living in Arizona makes residents appreciate many things such as fresh air, warm temperatures, and beautiful sunsets. However, perhaps the one thing that the arid climate makes Arizonians appreciate more than anything else is water. And to get the best Arizona water, it's no secret that everyone must invest in a water softener and reverse osmosis system. American Home Water is now offering complete water systems that include the best water softeners in Phoenix for less than $1,000.00 installed.
Arizona is known for hard water. Water is called "hard" if it contains a lot of calcium, magnesium or other minerals. Groundwater acquires these metals by dissolving them from surrounding soil and rock.
Hard water causes two problems:
Dissolved calcium and magnesium precipitate out of hard water as scale, which builds up on the insides of pipes, water heaters, tea kettles, coffee makers and industrial machinery. Scale reduces flow through pipes and is a poor conductor of heat. Eventually, pipes can become completely clogged.
Hard water reduces soap's ability to lather, whether in the shower, sink, dishwasher or washing machine, and reacts with soap to form a sticky scum.
You can combat hard water in various ways, including filtering it by distillation or reverse osmosis, adding a packaged chemical softener such as powdered borax or washing soda (sodium carbonate), or running it through a water softener.
Purchasing a water softener will extend the life of plumbing systems and is a great investment for any homeowner. Water softeners can reduce soap usage by up to 70 percent, help to reduce irritation to skin, make dishes cleaner, and because they eliminate calcium scale buildup, house cleaning becomes much easier and less time consuming. When purchased at a fair price, a water softener is a great investment and will actually pay for it self many times over. Why? For a normal family, up to 25percent of the grocery bill is spent on cleaning products. With a water softener there is a reduced cost for cleaning supplies, higher efficiency from water heaters and an extended life expectancy from appliances, faucets, showerheads and clothes. This adds up to thousands of dollars that can be saved by using soft water, plus it adds to a better quality of life.
To learn more about American Home Water and to schedule an installation or get pricing information please visit American Home Water's website at http://www.americanhomewater.com or call them directly at (602) 993-0083.