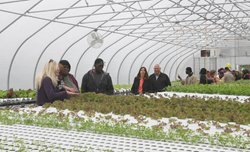 'One of the core tenets of AmHydro is our commitment to education,' said Christian. 'Arthur and Friends uses our systems for so much more than food. Individuals are empowered with knowledge that the general public doesn't have.'
Andover, NJ (PRWEB) July 24, 2014
The Arthur and Friends mission is simple: Provide jobs to those that would otherwise not have the opportunity. This includes disabled, developmentally delayed and handicapped individuals. Arthur and Friends will be opening their newest greenhouse which will provide produce for the premiere event space at Perona Farms in Andover, NJ. This new greenhouse will function as the centerpiece of the Arthur and Friends network. It is not only a fully functioning hydroponic greenhouse; it's a beautifully landscaped, free standing structure that will provide education and employment for some of the local citizens.
This new greenhouse is a 30'x60' Rimol Matterhorn outfitted with an American Hydroponics Nutrient Film Technique (NFT) system. In just 3,000 square feet of space they will be able to grow the equivalent of seven acres of traditional dirt farming, using only 10% of the water. "Our combined missions, the quality of AmHydro's system, and the quality of the training programs, is making the job of cultivating a better planet more successful," said National Program Director Wendie Blanchard.
In sourcing equipment for this new greenhouse, Wendie had to look no further than her current operations. "We have worked with many different hydroponics systems, and none of them hold up to the quality and craftsmanship of American Hydroponics." Blanchard remarks. "Once I accidentally drove over a dozen of the channels with my car and none of them were damaged. The materials and the support they provide, make what we are doing so much easier."
Using American Hydroponics NFT growing system, this new facility in Andover, NJ will employ 5 people year-round. They will be growing and harvesting enough food to not only supply Perona Farms catering efforts, but they will also be able to donate produce to other local non-profits and food banks. Blanchard comments, "The healthiest food should not be available just to the wealthiest people."
Blanchard goes on to say, "Growing is a catalyst, hydroponics is the method, but we are actually growing people who previously were living in the shadows and isolated. There is a sense of dignity from earning a paycheck, a sense of pride from growing beautiful produce that people say "Wow!" and empowerment from the fact that they own a body of knowledge that the general public doesn't hold."
Founder & President Michael Christian agrees, "One of the core tenets of AmHydro is our commitment to education. Arthur and Friends uses our systems for so much more than food. Individuals are empowered with knowledge that the general public doesn't have. In any other setting these people would be overlooked by society, here they are able to show off their knowledge of biology, chemistry, and agriculture. This is power of education, and hydroponics is the catalyst."
About American Hydroponics
American Hydroponics of Arcata, Calif., provides state-of-the-art crop performance products and services for people to grow crops successfully, year-round for pleasure and profit in any environment, with an emphasis on conserving resources. American Hydroponics, cofounded in 1984 by Michael Christian, is known for its innovation by leading the industry with easy-to-use, high-performance horticultural products, greenhouse supplies, resource conservative equipment and knowledge. Their commercial products are 100% American Made, and are being utilized in 44 countries and all across the US.