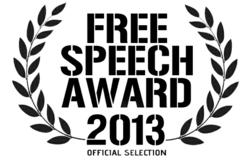 "The test of Democracy is freedom of criticism." David Ben-Gurion
Philadelphia, PA (PRWEB) April 25, 2013
American INSIGHT will host its annual Free Speech Awards Ceremony at The Union League in Philadelphia on Friday, May 17, 2013.
This year's Free Speech Award Ceremony Presenters now include former Governor Jon Huntsman's daughter Mary Anne Huntsman (concert pianist), who will be joining her sister Abby Huntsman (HuffPostLive, MSNBC, CNN, ABC News); Gregory Harvey, Esq. (lawyer and First Amendment scholar) ; Tanya Steinberg (President & CEO, International House of Philadelphia); and Kean Wong (producer of American INSIGHT's 2012 Free Speech Award Winning film).
Award Ceremony Moderators for the evening are: Karen Curry (Executive Director, Drexel University's Kal and Lucille Rudman Institute, former NBC News and CNN Bureau Chief); and Bob Craig (Host of Big Band Jazz + Voices of Jazz on WRTI Radio).
Tickets are $125 per person for the 5:30 PM Gourmet Reception, Celebrity Presentations and Screening; and $75 per person for the 7 PM Award Ceremony Presentations and Screening of American INSIGHT's 2013 Free Speech Award-winning film. All tickets must be purchased in advance at both American INSIGHT's website and the Free Speech Film Festival's website. Tickets are available online only.
American INSIGHT's mission for the Free Speech Film Festival and Award Ceremony is to provide a platform that utilizes emerging technologies to broaden exposure to the historical and future issues concerning Free Speech.
Filmmakers from around the world have created and submitted films that capture the fervency of the human spirit through the inalienable right to self-expression and open dialogue, which is often accompanied by struggle, persecution and oppression.
The Free Speech Award Ceremony features one Award-winning film from six "Official Selection" films submitted from around the world. All final Free Speech Award-winning films are added to American INSIGHT's interactive online Free Speech Storyline, which traces the history of Free Speech back to the invention of the printing press.
American INSIGHT is a nonprofit cultural institution that has featured Free Speech and the Spoken Word since 1983. Inspired by Philadelphia artist Violet Oakley's 1906 murals in the Pennsylvania State Capitol Building in Harrisburg, Margaret Chew Barringer, founder and chairman of American INSIGHT, created and developed the Free Speech Film Festival to honor the legacy of the Free Speech movement.
With recent uprisings around the globe and the urgency to stop the proliferation of war, American INSIGHT invites audiences to discuss and inspire Free Speech, as they utilize their own voice and creativity to encourage freedom in repressed societies. Help us to change the world!
For more information and to purchase tickets, please visit us at http://www.AmericanINSIGHT.org and [http://www.FreeSpeechFilmFestival.org.