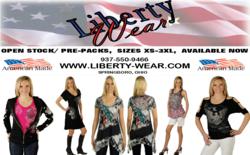 Helping America One Fashion Top At A Time
Springboro, Ohio (PRWEB) May 29, 2013
Liberty Wear Apparel, a new company with big plans on changing the fashion industry standards of today, with American Made apparel and American standards. Although small, Liberty Wear is a diverse group utilizing their out of box thinking to create an original and unique line of American Made apparel to compete with the big boys in the industry, and keep the small ones open and proud to support American workers at a great cost.
When most Americans think of rural Ohio, they think of double digit unemployment, foreclosures, struggling farmers and factory workers. Very seldom do they think of women's fashion or the latest trends.
Liberty Wear's philosophy is simple, "Study the market, determine what the big companies are doing wrong, and correct it," says Tammy Jackson, owner. "Sure, the main thing retailers look for is products that consumers want to buy, but there is so much more to it than that."
"Today's retailers look for and want companies that can make their already busy lives more uncomplicated and rely on human interaction to put their mind at ease and settled during these unsettling times, and that's the niche we fill as a company."
-Open Stock
-Plus Sizes
-No Minimums
-1 On 1 Interaction
-American Made And Owned
Liberty Wear's basic philosophies are working, and working well. Sales are already on the climb and our customer base grows each day. "We intend to keep doing what's working and convenient for our customers," says Jackson. "American Made apparel, great Midwest customer service, and treating our customers like the friends they are, which means they can always get a hold of us."
Liberty Wear looks at recent news stories in disbelief, stories involving women's apparel, namely the A&F philosophy, and the horrible tragedy in Bangladesh. The Liberty Wear's of this country are a breath of fresh air. "We do not discriminate against anyone and our standards are maintained with the very cautiously chosen regulations put on us by this great country to keep everyone of our American workers safe," states Matteson Kelly, marketing and product director.
Unlikely Americans, with an American dream, making a difference in helping America one fashion top at a time.