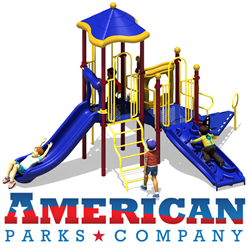 At American Parks Company™ we offer more than thirty years of experience helping to plan, design and budget playground projects for Church and Faith, or non-profit organizations.
McKinney, Texas (PRWEB) August 29, 2014
To give children an engaging playground to explore is to give the gift of good health and wellness, social and cognitive learning. Parks and playgrounds help to build a positive community environment for fun, fitness, and friendship.
Spencer Baptist Church in Spindale, North Carolina, chose American Parks Company to help them design and build a playground that children would enjoy. By investing in commercial playground equipment, Spencer Baptist Church has made a meaningful investment in the health and well-being of their community.
The programs at Spencer Baptist Church are family based and involve a number of activities to engage children and youth in Faith based events. From Sunday School to choir, bible study and their Centri-Kid enrollment, the church offers a robust schedule of family events.
Spencer Baptist Church chose the 'Apple a Day' commercial playground structure from American Parks Company. The ADA accessible playground features:

Two fun slides.
An Apex Climbing Attachment for simulated wall climbing.
A Fireman's Pole.
A Square Roof for UV protection and shade and more!
American Parks Company offers decades of experience helping to plan, design, and install playground projects for churches, non-profits, or other faith-based organizations. Their friendly playground experts provide step-by-step assistance to source the right playground style for the unique needs of a given community.
About American Parks Company
American Parks Company is a McKinney, Texas, based company that provides commercial grade park and playground equipment primarily to municipalities, city parks, schools, churches, daycare facilities, and homeowner associations.
Since 2004, American Parks Company has consistently provided high quality play structures at extremely affordable prices. American Parks Company is an industry leader in both the national sales and installation of commercial playground equipment.
For general information on American Parks Company, please call 1-800-381-4491 or visit http://www.AmericanParksCompany.com.
For media inquiries, contact Marc Parker – Vice President of Marketing and Operations – sm(at)americanparkscompany(dot)com
Corporate Address: 225 E. Virginia Street, McKinney, Texas 75069.