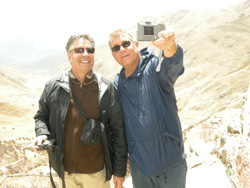 Welcome to travel from USA to Tibet with local tour agency in Lhasa!
(PRWEB) June 21, 2013
A well-developed tourist infrastructure has made travel from the USA to Tibet a much more accessible and enjoyable vacation options for many Americans. With popularity expected to continue climbing, Lhasa based travel agency Tibet Ctrip Travel Service-TCTS (http://www.tibetctrip.com) is reaching out to US travelers by offering tours that bend Tibet's stunning natural beauty with opportunities to learn about its fascinating culture and history. TCTS takes care of travel permits, transportation within Tibet and China, guides, and hotels. With details like these out of the way, travelers can relax, enjoy the scenery, and walk away with valuable knowledge of Tibet.
When planning a tour, travelers are encouraged to take time to learn about what Tibet has to offer and then choose destinations based off what interests them the most. Culture-and-history-focused travelers will want to include destinations with many opportunities to visit monasteries and temples; Shigatse, Gyantse, and Yarlung Valley are popular options for learning about Tibetan culture and history. Outdoor enthusiasts can enjoy adventures such as the trek to Everest base camp, Mt. Kailash Pilgrimage, or the biking trip from Lhasa to Kathmandu. Those seeking a blend of the two will likely enjoy an overland tour that combines visits to cultural and historical sites with plenty of opportunities to enjoy the scenery.
With the ease and accessibility of traveling in Tibet, thousands of Americans are making the trip each year. TCTS offers a wide variety of tours and itineraries to accommodate a wide variety of travel interests and needs! Travelers will be able to relax and not worry about details like hotels, transportation and travel permits when traveling with TCTS, providing for a get-away-from-it-all experience! Whether embarking on a Tibet trekking tour, going on an overland excursion, or just enjoying some easy paced sightseeing travel groups can learn and take away valuable knowledge and understanding of Tibet. Now that the Tibet travel season is in full swing, travel groups are advised to start planning their tour now.
Tibet travel agency TCTS Contact Address:
Post Address: Tibet Niwei International Travel Service, Co., Ltd (Niwei Building Room 302, No.13 North Linkuo Road, Lhasa, Tibet)
Tel/Fax (Lhasa area code):86-891-6342607, Mobile: 86-13628999610 (Tony), Post Code: 850000
Email: sales (at) tibetCtrip (dot) com, TibetCtrip (at) gmail (dot) com
Devin Moore provided this news release above on behalf of local Tibet tour agency TCTS (tibetctrip.com). Devin is a travel writer and independent economic analyst based in Springfield, Missouri USA. His economic research is currently focused on airfare pricing. Devin Moore works to spread awareness of Tibet and its people through publishing Tibet travel information.