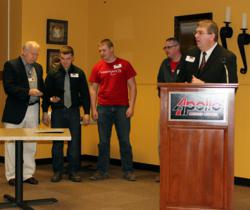 "Students are prepared for college and to meet the demands of a qualified job market. Graduates are career ready and possess the skills necessary to be successful."
Lima, Ohio (PRWEB) February 28, 2013
American Trim and Zack Miron were recently recognized at Apollo Career Center at an event intended to raise the awareness of the value of Career Tech Education programs during Career Tech Month. Apollo's technical programs were highlighted along with business partnerships including American Trim for their support of the Career Technical Center.
Coinciding with Governor Kasich's visit to Lima for the State of the State Address, the Apollo event reinforced the importance of a technical education in meeting the manufacturing workforce development needs of business and industry. Michael Sawyers, Acting Superintendent of Public Instruction, Ohio Department of Education, stated the importance of students being "prepared for college and to meet the demands of a qualified job market. Graduates are career ready and possess the skills necessary to be successful."
Zack graduated from Apollo after attending the Automated Manufacturing Technology program. He earned his Associates Degree from Rhodes State College and is currently working on an Electrical Engineering degree from Miami University. Zack worked as a co-op and then full-time as a CNC Machinist before his promotion to Engineering Technician.
About American Trim
American Trim specializes in the forming, decorating and coating of metal and composite materials. Supported by a strong focus on research and development, American Trim is dedicated to providing solutions for the most extreme environments, structural challenges or highly decorative needs.
For more information, please visit our website at http://www.amtrim.com.