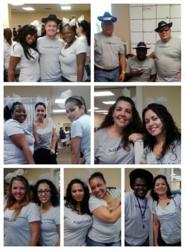 When employees work hard, they deserve to be rewarded
Pompano Beach, FL (PRWEB) October 17, 2012
Today, moving industry giant American Van Lines (AVL) announced that it was happy to celebrate Customer Service Week 2012. The international event which takes place annually during the first week in October, gave the moving company yet another opportunity to recognize the efforts of a customer service team that is pivotal to its overall brand and success. The owner of AVL, Anthony DiSorbo, was well aware of the importance of participating in an event of this magnitude.
"When employees work hard, they deserve to be rewarded." said DiSorbo. "I always try to do things to keep the staff motivated and focused. I got a lot of feedback from them saying how much fun they had so it was a success."
Since Customer Service Week was founded in the early 90's, thousands of companies worldwide have joined in on the fun yearly. While there is no set blueprint of events for the week-long celebration, the management team at AVL used its creative juices to come up with a mixture of everything from puzzles and word games and daily raffles that produced some big winners.
"I was super lucky today because I won the television in the raffle! I know some of my coworkers are a bit jealous but luck was just on my side," said Mark Bookbinder, a member of AVL's Dispatch team. "We all had a great week though. Everyone who participated had smiles on their faces and the energy in the office is great. We all feel refreshed."
This year, Customer Service Week was based on the motto, "Be the One." The theme was meant to encourage those who work in customer service to be passionate about their jobs and really try to make an impact on the people that they meet and interact with. According to DiSorbo, this was another reason he decided to jump headfirst into the week of fun.
"There's always something to learn. I think things like this can boost employee morale and let them know that they are part of a company that really cares about them."