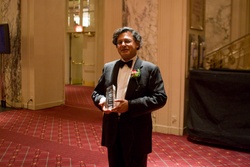 I was truly honored to receive the award. I was pleased to meet many of the other award recipients and impressed with their extensive accomplishments and varied backgrounds
NEW YORK (PRWEB) June 18, 2008
Considered to be one of the most sought after events in the nation, the awards program recognizes the spirit of corporate diversity by honoring distinguished achievements and efforts of Asian American professionals for their outstanding leadership, vision and accomplishments as entrepreneurs. Outstanding 50 is also regarded as the first and largest business awards program for the Asian American community.
"I was truly honored to receive the award. I was pleased to meet many of the other award recipients and impressed with their extensive accomplishments and varied backgrounds," said Dr. Nair. "My hat is off to those at the Asian American Business Development Center for producing such a successful and well respected awards ceremony."
Other recipients of the award include Neeta Bhasin, CEO and President of ASB Communications; Won Choe, Department Manager of Distribution Engineering at Con Edison; Jim Flock, SVP Technology of Home Box Office; Ambuj Goyal, General Manager of Information Management Software at IBM; Neil Horikoshi, Director of Global Business Development at IBM; Karen Na, Branch Manager and VP at JP Morgan Chase; Nancy Park, Marketing Director of Colgate-Palmolive Company; Se-Min Sohn, Business Development Manager at UPS; Rachel Vorobyev, Head of Local Market Improvement & Targeted Growth Markets at Aetna; Ajay Waghray, CIO at Verizon Wireless; and Robert Yi, Operations Vice President of CPCU at State Farm Corporation.
AABDC organized the "Outstanding 50 Americans in Business" to recognize and award accomplishments of Asian American entrepreneurs and corporate executives, thereby enhancing the roles and voices of Asian Americans in public policy. This AABDC program also serves as an advocacy channel for many corporations to demonstrate their support for cultural diversity by nominating distinguished Asian American executives for the program.
For more information about the Outstanding 50 awards, go to http://www.outstanding50.com. For more information on Nair & Co, please visit http://www.nair-co.com or call 408.515.6887.
MULTIMEDIA GALLERY http://www.businesswire.com/cgi-bin/mmg.cgi?eid=5712330