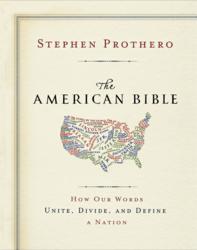 With Prothero's expert analysis, these texts should spark civil conversation, informed debate, and intelligent discussion."
– Jon Meacham, Pulitzer Prize-winning author of American Lion
San Francisco, CA (PRWEB) May 29, 2012
American politics are broken. Instead of arguing on behalf of the nation, citizens argue on behalf of a party. Instead of having a thoughtful discussion, citizens hurl accusations of being "unpatriotic," "un-American," and "un-Christian." And though Americans have a long tradition of fervent political debate, it seems that they have forgotten how to actually talk with one another.
In The American Bible: How Our Words Unite, Divide, and Define a Nation (June 2012; HarperOne), renowned scholar and bestselling author Stephen Prothero aims to recover the U. S. tradition of political civility. Presenting the comprehensive and groundbreaking canon of "American Scripture"—the hallowed documents, speeches, literature, songs, and letters that have come to characterize the country—Prothero examines the words that continue to inspire discussion and provoke impassioned debate, puts them back into their original context, and unearths the longstanding American tradition of civil debate which has been lacking in recent political discourse.
From the Declaration of Independence to the Gettysburg Address to Mark Twain's The Adventures of Huckleberry Finn, the nation's core texts will play an important role in the 2012 election. As politicians and talking heads quote (and misquote) the many documents held in this collection, Prothero reclaims the words of King and Jefferson from those who would distort the intent of "I Have a Dream" or misrepresent the meaning of "the wall of separation between church and state."
Including commentary on the original source material, as well as observations on the texts' enduring impact on American culture, The American Bible will serve as an indispensible resource for anyone wishing to better understand where the country has been, who its citizens are, and where it is going.
About the Author
Stephen Prothero is the New York Times bestselling author of Religious Literacy and God Is Not One, and a professor of religion at Boston University. His work has been featured on the cover of Time magazine, and he is a frequently sought after guest of the national media, appearing on such programs as The Daily Show with Jon Stewart, The Colbert Report, CNN's John King, National Public Radio, and many others. He writes and reviews for The New York Times, Wall Street Journal, Newsweek, Boston Globe, Washington Post, USA Today, Los Angeles Times, and Salon, and is also a regular contributor to the CNN Belief Blog.
Advance Praise for The American Bible
"America is many things, but above all it is an ongoing conversation about 'what America is.' Stephen Prothero has done us all a great service by gathering many of these documents into a single volume that for a long time will serve as an invaluable resource and will keep the conversation lively." – Harvey Cox, Hollis Research Professor of Divinity at Harvard and author of The Future of Faith
THE AMERICAN BIBLE
How Our Words Unite, Divide, and Define a Nation
By Stephen Prothero
HarperOne, an Imprint of HarperCollinsPublishers
June 2012 | $29.99 | Hardcover| ISBN: 9780062123435