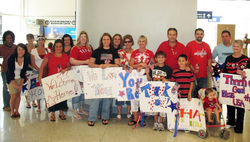 It will change your life and help you appreciate your many blessings
Grapevine, Tex. (PRWEB) August 25, 2009
American Debt Control employees and family members traveled to DFW International Airport in August to experience the joy of giving something back to those who have given much to them - men and women of the United States armed forces.
Zack Anderson, president of American Debt Control, said his group found the experience more emotional than expected. "Watching news accounts about these outstanding Americans can't compare to greeting them face to face to say 'thank you' for their service," Anderson said. "This makes it personal; and it reminds us of the great sacrifices our troops make for us every day."
American Debt Control employees prepared for their mission by making red, white and blue signs of support to display and "goodie bags" of treats to pass out to the approximately 200 troops passing through DFW that day.
At the airport, Linda Anderson and Nicole Anderson, co-founders of American Debt Control, talked with several people, including a group of Allstate Insurance employees, who go to DFW at least once each month to express their thanks to the transiting military people.
Linda Anderson was especially impressed by one woman who regularly takes her small daughter to the airport to greet the troops, although she has no friends or family members in the military. "That lady takes her daughter to teach her respect for those who defend our country," Anderson said. "She wants to instill that value in her daughter in a meaningful way."
Each day at DFW and airports throughout the USA, hundreds of troops pass through on their way home or departing for battle. The Andersons urge the public to check with airports serving their home areas to find out when troop flights will be arriving, and how they can participate. "It will change your life and help you appreciate your many blessings," Zack Anderson said.
About American Debt Control
American Debt Control, LLC, is a full-service debt settlement company that is "Best Practices Accredited" by The Association of Settlement Companies and has more than 10 years of experience helping financially distressed people become debt-free and take back control of their lives. Our knowledge and solid relationships with banking and collection institutions nationwide help our clients reach favorable settlements, become debt-free and stay that way without the lasting stigma of bankruptcy. Get our special report,12 Questions to Ask Before You Hire a Debt Settlement Company, without charge at our Website. For more information, call American Debt Control toll-free at 1-866-861-8894, or visit http://www.americandebtcontrol.com.
Contact
Mark Cummins, Vice President of Operations
American Debt Control, LLC
817-231-0950
###