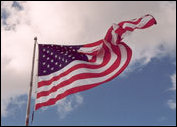 Independence Day is about family, friends, fireworks and fun, but it's also a time to reflect on, and give thanks for the freedoms we enjoy year-round
Huntington Station, NY (PRWEB) June 30, 2006
As America celebrates its July 4th birthday, AmericanFlags.com is marking the occasion by offering its website visitors free American Flags. The U.S. flags to be given away by AmericanFlags.com measure 3 feet by 5 feet and generally retail on the website for $19.99, plus shipping and handling. Starting immediately through July 5th, up to one million customers will get these top quality American-made flags for free and pay only for shipping and handling.
"Independence Day is about family, friends, fireworks and fun, but it's also a time to reflect on, and give thanks for the freedoms we enjoy year-round," said AmericanFlags.com President/CEO Jeffrey Reynolds. "The American flag remains the world's most powerful symbol of liberty, freedom and democracy and as such, we should see one flying outside every home in America." Reynolds added. "And at AmericanFlags.com, we're willing to give away up to a million flags to make that dream a reality."
AmericanFlags.com is the world's largest retailer of U.S. flags and flagpoles, supplying American-made products to corporations, schools, military bases and consumers worldwide. AmericanFlags.com is owned and operated by Precision Marketing Solutions, Inc., a privately-held corporation based in New York. Visitors can claim their free flags by visiting http://www.americanflags.com.
Contact:
Jeffrey Reynolds
President/CEO
1-877-763-3423
###