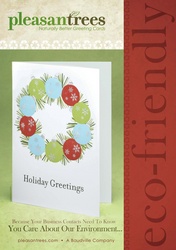 It is partnerships with companies like Pleasantrees that make our vision to have healthy forests in every community a reality. Together we're creating positive change in our environment, three trees at a time
GRAND RAPIDS, Mich. (PRWEB) October 6, 2008
All Pleasantrees eco-friendly cards are produced on recycled paper certified by the Forest Stewardship Council (FSC) with at least 50% recycled content and 30% post-consumer content. To further its dedication to the environment, Pleasantrees gives back on each corporate holiday cards order through participation in the American Forests Global ReLeaf program.
"It is partnerships with companies like Pleasantrees that make our vision to have healthy forests in every community a reality. Together we're creating positive change in our environment, three trees at a time," said Deborah Gangloff, American Forests Executive Director.
Pleasantrees will be a part of American Forests' efforts as every eco-friendly business holiday card order will plant three trees through American Forests. American Forests, the nation's oldest nonprofit citizens' conservation organization, is dedicated to preserving and restoring the environment by planting trees.
"The new Pleasantrees brand is more than just eco-friendly cards. It's an opportunity to be a resource to our customers on how they can reduce the environmental impact of their business," says Brad Darooge, Baudville, Inc. President and CEO. "By partnering with American Forests, our company and our customers have the opportunity to make a difference in local communities throughout the world."
All Pleasantrees' recycled cards and business Christmas cards are available for one-day turn around and free personalization. The exclusively designed business corporate Christmas cards are all made in the USA.
Pleasantrees is the only all-green business-to-business greeting card provider in the industry. All Pleasantrees exclusively designed eco-friendly cards are created with FSC-certified paper of at least 50% recycled content and 30% post-consumer content. Pleasantrees has partnered with American Forests and will donate three trees for every eco-friendly card order placed through December 2009.
American Forests is the oldest nonprofit citizens' conservation organization in the nation whose mission is to ensure every community has a healthy forest ecosystem. American Forests focuses 85% of its reforestation efforts in the United States.
MULTIMEDIA GALLERY http://www.businesswire.com/cgi-bin/mmg.cgi?eid=5795419