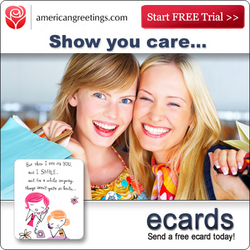 "Larger brands need advanced strategies and technology applications to ensure their affiliate program on a multi-network level can scale to new heights," Heather Paulson Founder Paulson Management Group, Inc
Boulder, CO (PRWEB) October 27, 2010
American Greetings, the name behind many of the most popular greeting card lines in the world, has selected Paulson Management Group, Inc. to manage the American Greetings multi-network affiliate programs for AmericanGreetings.com, BlueMountain.com, and PhotoWorks.com.
American Greetings has touched countless lives with meaningful products that span from greeting cards to party goods to custom mouse pads, calendars, and other photo gifts. American Greetings products can be found both online, and in retail outlets around the world. American Greetings features a special division dedicated to utilizing technology to help people digitally celebrate special occasions and relationships with electronic cards and online services. With one of the largest design and editorial studios in the world, American Greetings hosts over 3.7 million online subscribers who send electronic greeting cards across the globe. American Greetings has the largest collection of electronic greetings on the web, with thousands of e-cards available for every occasion.
Quality photos and artwork are an integral part of what make American Greetings products special, and the American Greetings owned website, PhotoWorks.com, helps consumers make the most of their unique images. PhotoWorks.com is a personal publishing website that helps people customize not just cards, but also books, calendars, mouse pads, and more with their own photos. With PhotoWorks.com, people can turn their favorite digital images into high-quality prints or custom gifts, as well as share their photos online.
American Greetings has many options for affiliates interested in promoting the American Greeting's online brands. Each brand's website will be featured in many of the world's most respected affiliate networks. For additional information, affiliates are encouraged to contact the proactive affiliate management team of PaulsonManagementGroup.com.
Paulson Management Group, Inc., a full-service affiliate management agency out of Boulder, CO, is excited to offer their services and proprietary affiliate management technologies to increase the productivity of the American Greetings global, multi-network affiliate programs. Paulson Management Group, Inc. affiliate management team members will utilize the PMG UniTrac™ system, as well as other affiliate management tools developed by PMG, to increase sales and streamline efficiencies surrounding the management of top tier affiliate programs in multiple affiliate networks. The PMG UniTrac™ system is part of the PMG affiliate management technology suite that includes other affiliate management tools including: PMG ValidSale™, the PMG AffMan™ affiliate matching system, and the PMG CouponFeeder™, which was built to keep affiliate partners updated on the newest coupons available for their affiliate programs.
Paulson Management Group, Inc. is the premiere affiliate marketing agency in the affiliate space to have developed proprietary technologies specifically for large scale multi-network clients who run affiliate programs on a global level. PMG UniTrac™ features a universal pixel that ensures merchants within multiple affiliate networks do not pay multiple affiliate commissions for a single sale. Paulson Management Group, Inc. is pleased to bring American Greetings affiliate programs under their managed care, and utilize the full suite of PMG affiliate management technologies to streamline and maximize the potential of each affiliate program in each affiliate network.
"Larger brands need advanced strategies and technology applications to ensure their affiliate program on a multi-network level can scale to new heights," said Heather Paulson, Founder/President of Paulson Management Group, Inc. "PMG can offer that, while ensuring optimal service to our merchants' affiliate partners, and enforcing brand policies on a global level. PMG is proud to offer our managed care to American Greetings and their subsidiary brands in the affiliate marketing channel, and we look forward to increasing their programs' sales and adoption by affiliate partners."
Super affiliates and content publishers are welcome to join the AmericanGreetings.com, BlueMountain.com, and PhotoWorks.com affiliate programs. Each program is featured in multiple affiliate networks for affiliate convenience, with competitive terms, and a full array of media from which to choose for optimal promotion. Affiliate partners interested in signing up for American Greetings affiliate programs managed by Paulson Management Group, Inc., or learning more about PMG affiliate management services, may find more information at http://www.PaulsonManagementGroup.com.
--About American Greetings
For more than 100 years, American Greetings has been a creator and manufacturer of innovative social expression products that assist consumers in enhancing their relationships. In addition to its product lines, American Greetings also creates and licenses popular character brands through the American Greetings Properties group. Headquartered in Cleveland, Ohio, American Greetings generates annual revenue of approximately $1.6 billion, and its products can be found online, and in retail outlets worldwide.
-- About PaulsonManagementGroup.com
Paulson Management Group, Inc. is a full service, multi-channel, e-marketing management and consulting agency. Paulson Management Group, Inc. was formed with the vision of bringing the best tools and people in the e-marketing space together to form one of the most driven and dynamic affiliate program management, social media management, and SEM management companies in the industry. Anyone interested in the services of Paulson Management Group, Inc. should visit http://www.PaulsonManagementGroup.com, or call 1-800-384-7760, for more information.
Paulson Management Group, Inc. is located in the technology hub of Boulder, Colorado. PMG launches and manages affiliate programs for retailers interested in their affiliate channel's success. PMG is the premier affiliate management agency with proprietary technologies built to streamline sales efficacy for the affiliate programs under their managed care.
PMG is the original developer of PMG-AffiliateTV™ the UniTrac™ Multi network tracking system, the AffMan™ affiliate merchant matching system, the PhoneTrac™ affiliate phone sales tracker, ValidSale™ sales validation tool, and the PMG CouponFeeder™ for affiliates. PMG has access to over 30 million affiliates via Syntryx.
Visit PaulsonManagementGroup.com to learn more about affiliate marketing for your brand.
###