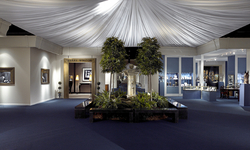 Whether scholarly or decorative, this luxurious environment where collectors from all over the world feel relaxed, is conducive to all types of collecting
West Palm Beach, FL (Vocus) December 24, 2008
When the 5-day American International Fine Art Fair (AIFAF) opens its doors for an exclusive by-invitation only Vernissage on Tuesday, February 3, collectors and connoisseurs from around the world will once again bear witness to an astonishing array of spectacular artworks assembled in one location.
With a roster of 80 international dealers , from 13 countries, this fair has become a major destination for art cognoscenti who can indulge their passion for collecting, against the exclusive backdrop of Palm Beach, Florida. AIFAF holds the distinguished honor of the only five star rated American fair by the prestigious The Art Newspaper.
The AIFAF welcomes a new roster of dealers, some of whom are returning to the fold including Pelham Galleries (London/Paris), B.B. Steinitz (Paris), Carolle Thibaut- Pomerantz (Paris), M.S. Rau (New Orleans), Gioia (New York) Adelson Galleries (New York), and Galerie Cazeau- Beraudiere (Paris). First-time exhibitors include: Carlton Hobbs (New York/London), Erik Thomsen (New York), Trinity House Fine Art, Haunch of Venison (London, Zurich, Berlin, New York), Daniel Liebsohn (Mexico City), Sundaram Tagaore Gallery (New York/Beverly Hills/Hong Kong), FraMonT(Greenwich, CT) Messum's Fine Art (London), and Connaught Brown (London).
In its 13th year, the AIFAF offers something for every collecting taste, and the dealers are always willing and able to provide expertise in their respective fields. "Whether scholarly or decorative, this luxurious environment where collectors from all over the world feel relaxed, is conducive to all types of collecting," said David Lester, the fair's organizer. "As always, we focus on achieving the proper balance within all the different specialties."
According to interior designer Mario Buatta, who co-chairs the fair's Collectors & Connoisseurs Committee with Pauline Pitt, Thomas Quick and Hilary and Wilbur Ross, this fair attracts people from all over the country as well as South America and Europe. "This is an audience you don't see in New York," he said. "It attracts the right people because they're all visiting Palm Beach at the same time during the high season. It's a great experience where dealers and collectors alike feel relaxed and unburdened."
Once again, great works of art will take center stage at the Palm Beach County Convention Center. A wide selection of important paintings from Old Masters to mid-century European modern and contemporary will be featured at stands such as Dickinson, Richard Green, MacConnal Mason, Hollis Taggart, Berry-Hill, Galerie Cazeau-Beraudiere, Noortman, Sundaram Tagore, and Derek Johns.
Quality period furniture from the 16th to mid-20th century abounds with Mallet, Steinitz, Pelham, M.S. Rau, Macklowe, and Valerio offering rare and important pieces.
As always, stunning jewelry adds a knock-out touch in addition to the art and antiques. Van Cleef & Arpels, Buccellati, Graff, David Morris, Sabbadini, Veronique Bamps and Richters will present their hallmark styles, creating an extraordinary and priceless ensemble of necklaces, rings, bracelets, tiaras, and brooches, both period and contemporary.
Asian art has always been one of the major attractions at the fair due to the many private collectors in the area, as well as the outstanding collection of the Norton Museum of Art. Erik Thomsen, Goedhuis Contemporary, and Cohen and Cohen will debut their works of art.
Over 35 international museum professionals and experts in every field form the AIFAF 2009 Vetting Committee. According to David Lester, the fair has a rigorous vetting process that ensures the authenticity of the works of art. "We are able to accomplish this task by inviting world renowned specialists in their fields to employ their expert eye."
Daytime activities allow for golf, tennis and beach outings. Educational and informative lectures will take place daily at the fair. Groups will be hosted at daily brunches, high teas, and cocktail parties on the floor of the fair. Evening invitational events include private dinners at the Norton Museum of Art, the Flagler Museum and Donald Trump's exquisite Mar-a-Lago estate.
The event commences February 3 with a private Vernissage and reception sponsored by legendary jewelers Van Cleef & Arpels. Proceeds from the reception will benefit the Norton Museum of Art. The Norton Museum will feature exhibitions of works by Georgia O'Keeffe and Ansel Adams concurrently during the fair, and there will be reciprocal admission between the fair and the museum during the week.
On Friday evening, the organizers and dealers will host a unique tribute evening to honor regional museum directors who have made special contributions to the cultural community of the Southeast United States. Among the honorees are three museum directors including John Blades, from The Flagler Museum, Christina Orr-Cahall, from The Norton Museum, and Myra Janco Daniels, from the Naples Museum of Art. The cocktail and dinner event will take place at the Flagler Museum's new Kenan Pavilion, which overlooks Florida's Intracoastal Waterway.
The American International Fine Art Fair, located at The Palm Beach Country Convention Center, 650 Okeechobee Boulevard, opens with a Vernissage on Tuesday, February 3. The five-day fair opens to the public on Wednesday, February 4. Hours are Noon to 7 P.M. through February 7 and noon to 6 P.M. on February 8. Single and Multi-day passes are available. Catalogues are $15.
For more information, call 239-949-5411 or visit http://www.aifaf.com .
Press Contact:
Marilyn White
973-783-3649
###