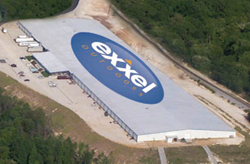 This loophole is threatening the future of the Exxel plant in Haleyville, a wonderful business and the largest manufacturer of sleeping bags in our country. -- Sen. Jeff Sessions
Haleyville, AL (PRWEB) December 28, 2010
Exxel Outdoors, the only major sleeping bag factory in the United States, will commence the first phase of its expansion in January 2011, adding American jobs and increasing production by 33% at its 250,000 square foot facility.
CEO Harry Kazazian announced that Exxel Outdoors will immediately hire 20 additional employees to start a fourth sleeping bag production line. Exxel will also invest significant capital for additional equipment and retooling its operations.
The plant is in Haleyville, Alabama, where the unemployment rate is amongst the highest in the region.
The expansion comes on the heels of Exxel Outdoors overcoming an unfair situation regarding imports of sleeping bags from Bangladesh. Importers of Bangladeshi-made sleeping bags pay no duty on their raw materials from China. At the same time the U.S. law that controls foreign trade preferences, which will expire on December 31, was allowing bags from Bangladesh to enter the country without paying the standard tariffs.
Senator Jeff Sessions (R-AL) of Alabama said in a recent press statement, "This loophole is threatening the future of the Exxel plant in Haleyville, a wonderful business and the largest manufacturer of sleeping bags in our country."
"For this reason, I have not allowed a trade bill to move forward that would preserve this unjust loophole, a loophole which violates our nation's longstanding trade principles," Senator Sessions' statement continued. "These tax preferences were intended to apply only to those foreign businesses which do not compete with American workers. "
Kazazian remarked, "We have immense gratitude for our Congress members who are fighting for our American factory – Senator Jeff Sessions (R-AL), Congressman Robert Aderholt (R-AL), Senator Richard Shelby (R-AL), and Congresswoman Judy Chu (D-CA)."
"Because of their tenacious efforts, the playing field is more level," said Exxel Outdoors President Armen Kouleyan. "We'll now be able to resume our trend of bringing jobs back home, and more American-made sleeping bags will be found on store shelves."
"We also thank Senator Sherrod Brown (D-OH) for his deep concern for American factory workers across the country and the future of U.S. manufacturing," Kazazian commented.
Exxel Outdoors purchased the Haleyville sleeping bag factory in 2000, when it was slated for closure. Kazazian and Kouleyan hired the workers back and teamed with them to make the factory efficient enough to compete with Chinese sleeping bag imports.
Starting in 2007, Exxel gradually shut down their own sleeping bag operations in China to shift production to the U.S., expanding their Alabama workforce by 20 %. Currently they are producing the majority of their sleeping bags in America and are striving to bring all of their production back here.
"We're so proud of our Alabama employees – their ingenuity and their will," said Kouleyan. "Thanks to them, when all of our competitors moved offshore we were able to stay in the U.S. and thrive."
"When the playing field is level, our American workers are second to none," Kazazian noted.
Congresswoman Chu became involved with this issue when she learned that Exxel's western headquarters is located in her California district and its factory was struggling with the competitive disadvantages from sleeping bags made in Bangladesh.
Press Inquiries: Dahlia Greer for Exxel Outdoors, dahlia(at)exxel(dot)com.
Visit: http://www.exxel.com.
# # #