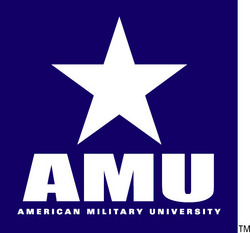 We are proud that AMU's online curriculum can help bright, excellent, publicly-minded individuals with the next level in their careers and be a part of their success
Charles Town, WV (Vocus) March 16, 2009
The White House Fellows program is the nation's most prestigious program for leadership and public service, and American Military University (AMU) can count two of its graduates - Nicole Malachowski and Dan Caine - as recent members. The White House Fellows program, founded in 1964, offers Fellows first-hand experience working at the highest levels of government to get a sense of personal involvement in the leadership of society.
Nicole Malachowski is a member of the White House Fellows Class of 2008 and recently earned an M.A., with honors, in National Security Policy from American Military University. She also received a B.S. in Management, with a minor in French, from the United States Air Force Academy. Malachowski is a Major in the U.S. Air Force with over 2,100 flying hours and was inducted into the Women in Aviation International Pioneer Hall of Fame. She is also a frequent motivational speaker at local, state and national events.
Dan Caine was a member of the White House Fellows Class of 2006 and earned an M.A, with honors, in Military Studies from American Military University. He also received a B.A. in Economics from the Virginia Military Institute. Following his Fellowship year he served as a Policy Director on the White House Homeland Security Council Staff. Caine still serves as a Lt. Col. in the Air National Guard with over 2,500 flying hours and is the President of Patriot Technologies Group LLC.
"We are proud that AMU's online curriculum can help bright, excellent, publicly-minded individuals with the next level in their careers and be a part of their success," said Wallace E. Boston, president of American Military University. "I congratulate Major Malachowski and Lt. Col. Caine on their substantial achievements."
White House Fellows typically spend a year working as full-time, paid, special assistants to senior White House staff, the Vice President, Cabinet Secretaries and other top-ranking government officials. Fellows also participate in an education program consisting of roundtable discussions with renowned leaders from the private and public sectors and trips to study U.S. policy in action both domestically and internationally. The fellowship is a non-partisan appointment. Learn more about the White House Fellows program online at http://www.whitehouse.gov/fellows.
American Military University
American Military University (amuonline.com) is a member institution of regionally accredited American Public University System (apus.edu), which also includes American Public University (studyatapu.com) and educates more than 45,000 adult learners worldwide. AMU's relevant curriculum, affordability and flexibility allows working adults to pursue degrees that will help them advance in a variety of career fields, including business, information technology, education and management. AMU also provides specialized education in homeland security, national security and emergency and disaster management. A university book grant provides textbooks at no cost for eligible undergraduate students. American Public University System is a wholly-owned subsidiary of American Public Education, Inc. (NASDAQ:APEI). For more information, please visit http://www.AmericanPublicEducation.com.
# # #