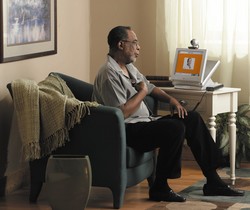 ATI can continue to do so, and to support other federal agencies' telemedicine programs as well, through December 2013.
Minneapolis (PRWEB) March 11, 2009
American TeleCare, Inc. (ATI), leader in the development and application of telehealth monitoring and messaging, announced that its solutions and services remain available to government agencies under new contracts with the Veterans Health Administration (VHA). With a renewable one-year Blanket Purchase Agreement (BPA) and a new five-year Federal Service Schedule (FSS), ATI continues to work with the VHA.
"We have provided telehealth solutions to the Veterans Health Administration since 1999," said Randy Moore, M.D., M.B.A., chairman and chief executive officer, American TeleCare, Inc. (ATI). "ATI can continue to do so, and to support other federal agencies' telemedicine programs as well, through December 2013."
As part of the new agreements, including preferred pricing for any U.S. federal agency on a Federal Service Schedule (FSS), ATI solutions and services are now available via GSA Advantage!® The General Service Administration's one-stop, online shopping resource, GSA Advantage allows any U.S. federal agency anywhere in the world to find, compare and purchase products and services, including information technology (IT) and medical equipment. The program simplifies purchasing and ensures that government customers receive GSA-awarded prices from GSA-approved companies. In addition, state and local government entities may now use GSA Advantage under both the Cooperative Purchasing Program and the Disaster Recovery Purchasing Program.
ATI's inLife™ system features compact, easy-to-use Patient Stations that gather information from health status questions that patients answer as well as objective clinical data from integrated medical peripherals (including blood pressure monitors and blood glucose meters). Narrated instructions with answer verification complement multi-media instructions and guide patients through their telehealth tasks. Individualized patient education and self-care instruction are integrated within the flow of patients' tasks. A dashboard display presented on the system's Provider Stations color-codes summaries of each patient's current health risk status. Clinicians can set specific thresholds for each patient to red flag significant changes in a patient's condition and can access the details of monitored physiological data and patient-reported information.
ATI's LifeView™ system combines remote patient monitoring and messaging with interactive video and electronic stethoscope options for televisits. With LifeView, providers can further assess patients at home and intervene with timely medical care.
About American TeleCare
Founded in 1993, American TeleCare (ATI) is the pioneer of intelligent monitoring and video-based telehealth technology. With proven experience in clinical process re-engineering, ATI works with leading healthcare organizations to put their patients at the center of care teams and supports them with best-in-class solutions. ATI systems connect continuous healing relationships and deliver essential information for clinical and self care. Ongoing monitoring and constant care of patients at home keeps them connected to clinical expertise and may help prevent acute events. The results: 100-200 percent increases in provider productivity and 65-95 percent reductions in emergency room and inpatient costs - achieved as care teams help physicians watch over, improve and maintain their patients' health. For more information, visit http://www.americantelecare.com. Then call 800-323-6667.
NOTE: American TeleCare will exhibit at the American Telemedicine Association (ATA) Annual International Meeting & Exposition, which will be held on April 26-28, 2009 at the Rio All-Suites Hotel and Casino, Las Vegas, Nev. American TeleCare will be at booth #300.
###