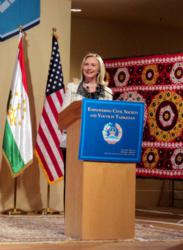 DUSHANBE, Tajikistan (PRWEB) December 20, 2011
On her visit to Tajikistan in October, U.S. Secretary of State Hillary Rodham Clinton commended FLEX alumni and other young leaders for their commitment to creating a better future for Tajikistan. The town hall meeting in Dushanbe's Ismaili Center focused on women, youth, and building civil society. Before Secretary Clinton's arrival, FLEX Alumni Coordinator, Kholmati Kholik (2009) spoke to the audience of more than 500 about the Tajik FLEX alumni community and encouraged those present to join the group's volunteer service efforts. For many years now, FLEX alumni have taken active roles in building Tajik civil society through community service.
Administered by American Councils, the FLEX program sends students from ten Eurasian countries, including Tajikistan, to study in American high schools for one academic year. After being exposed to American volunteerism in their host communities, FLEX participants return home with a commitment to improving their own communities and countries. FLEX alumni exhibit a strong sense of leadership and engage continuously with their communities thanks to high-caliber alumni programming and cohesive FLEX support networks. Through volunteer efforts in professional development, gender equality training, and English language education, the Tajik FLEX alumni are empowering their fellow citizens and becoming leaders in their fields.
Secretary Clinton thanked Tajikistan's young leaders for "helping to build a more prosperous, democratic future for Tajikistan." She discussed women's roles in government, economic development, youth development, and U.S. - Tajik relations. FLEX alumni Shuhratjon Ashurov (2007 alumnus) and Mahbuba Abdullaeva (1996 alumna) asked Secretary Clinton about professional development strategies and gender equality in Central Asia. Secretary Clinton concluded by telling the audience, "you can count on America's support as you take on all of these challenges, and we will try to be a good partner and a good friend."
Reflecting on the event, Miskola Abdulloeva (2002 alumna) said the meeting was, "unique and unforgettable - one of the most memorable events in the history of the Tajik FLEX alumni community." The well-deserved congratulations from the U.S. Secretary of State will no doubt motivate Tajik FLEX alumni to continue to improve the lives of others and make their country more inclusive, democratic, and prosperous.
# # #