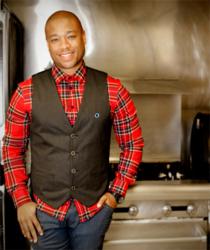 Pompano Beach, FL (PRWEB) November 16, 2012
We recently caught up with one of the busiest Celebrity Chefs in the world. Charles Mattocks, known as 'The Poor Chef', has been all over the globe promoting diabetes education and testing. From the United States to India to Trinidad, Mattocks' mission is to teach people how to eat well and lead a healthy lifestyle. His cookbook, 'Eat Cheap But Eat Well' is a best-seller and has been featured on television shows such as Dr. Oz, Today, Good Morning America, and many more.
Mattocks was diagnosed with Type 2 Diabetes in 2011 and has been actively working to help educate the public about diabetes. His efforts include multiple appearances on major network news programs. He is an active celebrity blogger for the Dr. Oz show and Anderson Cooper. He is filming a documentary titled 'The Diabetic You' in which he brings the public plight of diabetes to the forefront. Mattocks also hosts a weekly radio program, 'The Healthy Dish', in which he promotes ways to improve the quality of life through healthy eating and living.
We asked Charles if he could share a few diabetes-friendly recipes with us as families begin to make their plans for Thanksgiving. As usual, he did not disappoint.
Here is a delicious Thanksgiving dessert that 'The Poor Chef' believes will be a hit at your Thanksgiving celebration:
Pumpkin Mousse:
1 1/2 cups skim milk
1 small package instant sugar-free butterscotch pudding mix
1/2 cup canned pumpkin
1 teaspoon pumpkin pie spice (or combination of ginger and cinnamon)
1/2 cup of fat free whipped topping
Whisk together the milk and pudding mix. Gently fold in spices and whipped topping. 
Chef's notes: This mousse offers the smooth richness and spice of pumpkin pie while limiting the carbs. Add a teaspoon of whipped topping and a sprinkle of nutmeg just before serving.
View all four of the recipes that Charles has treated us to.
About American Diabetes Wholesale:
American Diabetes Wholesale (ADW) is a diabetic supply mail order company that is dedicated to keeping diabetes management affordable. ADW is focused on helping customers effectively manage their disease by providing one of the largest selections of diabetes- related products, including glucose testing products, blood pressure monitors, and diabetic friendly food at significant discounts. ADW also has support for customers who have health insurance, as well as the uninsured. American Diabetes Wholesale is involved in and supports the diabetes community and organizations that further diabetes education and research.
About Charles Mattocks:
Charles Mattocks, aka The Poor Chef, has made a name for himself as the bestselling author of Eat Cheap, But Eat Well. His famous tag line - "What can you cook for $7?" - has taken the country by storm. Charles' love of healthy food fueled his passion for health and wellness. Charles aims to educate people on how to buy great food for the family without breaking the budget. He has a new line of sugar and gluten free chocolate called "The Charles Bar". Along with a kids book and a new diabetic cookbook coming soon, Charles has also teamed up with the USDA Pyramid program, a proponent of early education, teaching children to eat and shop for healthy foods. Charles has showcased his cooking tips on The Dr. Oz Show, where he and Dr. Oz prepared a great family meal for less than $7. Mattocks is starring in and directing the documentary 'The Diabetic You' which will premier in 2013 at independent film festivals across the globe. He was recently honored by the International Diabetes Federation as a Blue Circle Champion and Hero. He can also be found on the radio with his new show 'The Healthy Dish' which airs weekly in the Atlanta-area on LOVE 860 AM.
For more information on Charles, visit http://www.thepoorchef.com.