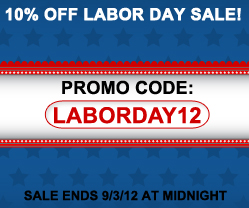 Pompano Beach, FL (PRWEB) September 01, 2012
American Diabetes Wholesale announces their sale to celebrate Labor Day by giving customers a 10% discount on all products purchased between August 31st and September 3rd at http://www.americandiabeteswholesale.com.
The event is a 4-day sale and will be applicable to all orders processed through the company's website from August 31 – September 3. To obtain the discount, enter coupon code LABORDAY12 into the promotion code box during the checkout process.
American Diabetes Wholesale offers a full line of both name brand and generic diabetes testing supplies such as blood glucose monitors, test strips, lancets and lancing devices. ADW's focus is to provide customers with affordable options to manage their diabetes while offering competitive pricing, superior customer service, and timely shipping.
About American Diabetes Wholesale
American Diabetes Wholesale (ADW) diabetic supply mail order company that is dedicated to keeping diabetes management affordable. ADW is focused on helping customers effectively manage their disease by providing one of the largest selections of diabetes-related products, fast service, significant discounts and support for customers who have health insurance, as well as the uninsured. ADW takes a leading role in diabetic education through Destination Diabetes, an informational component of the ADW website featuring tips and advice from diabetes and nutrition experts, diabetic recipes and more. ADW is involved in and supports the diabetes community and organizations that further diabetes education and research.