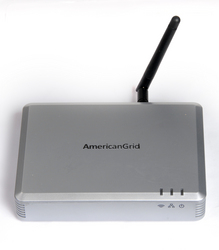 Americans have the most vested interest in reducing their skyrocketing utility bills. They aren't paying them with Monopoly® dollars. Americans have limited options to curtail energy use and have a right to know where their utility dollars are going.
Washington DC (PRWEB) March 29, 2010
Empowering American households to save money on their utility bills, American Grid Inc. today announced its Smart Home Energy Network™, now available through Costco.com. This easy-to-use home energy management system gives homeowners real-time visibility and complete control over their energy use, translating usage for the whole home and/or each appliance into actual dollars.
Unlike other energy savings products AmericanGrid enables its customers to realize immediate savings. During recent customer trials of AmericanGrid's Smart Home Energy Network, single-family homeowners with energy bills of more than $250 per month were able to save as much as 20 percent on their energy costs, without having to retrofit their homes or purchase new appliances.
"AmericanGrid's Smart Home Energy Network makes it easier to save money because it shows me exactly where my energy dollars are going," said Mr. Trip Kloser, an AmericanGrid customer. "It was truly a wake up call. For example, I learned that even when my home theater system is off, it could consume more than $60 per month in energy costs. With the AmericanGrid network, I was able to eliminate unnecessary charges, without sacrificing my family's comfort or convenience. "
Eye On Energy, Anytime, Anywhere.
Using patent-pending technology, the Smart Home Energy Network consists of (a) a self-install hardware kit that securely connects all the home appliances to the AmericanGrid data center using customer's existing home broadband network and (b) a 7x24 home energy monitoring service keeps an eye on all energy-hogging home appliances and adjusts them automatically based on easily customizable energy templates. Together, they provide real-time, automatic alerts on critical home energy events, including energy price changes and other thoughtful reminders.
Plug & Play Installation Enables Real Savings, Right Now.
Specifically designed for busy homeowners, the hardware kit is simple to set up and easy to use. Its contemporary design and stylish brushed color - "Sierra Silver" - complements all modern home living environments. For example, the sleek thermostat offers single button navigation, at-a-glance dashboard of actionable information - inside/outside temperature, critical energy events, instant energy use in real dollars and a night courtesy soft light - "Kiawah Blue". There is no software to install.
The retail box includes everything required for a self-install at home including a small screwdriver and a handy installation guide. The box is shipped to customer's home directly from the factory via FEDEX. Optional professional installation by certified technicians is available any day, including weekends. Live Support chat is available during normal business hours.
A web-based Personal Home Energy Dashboard gives users simplified control and the ability to create daily, weekly or monthly energy templates based on their active, mobile lifestyles for up to 12 months in advance. On-the-go users can make real-time changes from anywhere at anytime - either using the dashboard or by sending simple TXT commands from their mobile phones to modify energy templates or turn any appliance "on" or "off".
In addition, users have anytime access to a detailed breakdown of their actual home energy usage - by appliance, in an easy-to-read cost analysis that translates complicated utility bills into simple dollars and cents. No more guesses or estimates on utility bills.
Rapidly Rising Utility Bills Are Here To Stay
As demand for home energy outpaces supply and as utility rates soar over 70 percent in some cities, the need for home energy management is on the rise and skyrocketing utility bills have become the second most important reason for home mortgage foreclosures across USA.
"Today, American homeowners have the most vested in reducing their utility bills. They are looking for ways to save money and aren't paying their bills with Monopoly® dollars. They have a right to know where their utility dollars are going and have limited options to manage energy use in real time", said C.P. Shankar, Founder, American Grid, Inc. "Empowering Americans to save energy today, the AmericanGrid solution is a common sense alternative, using readily available resources and state of the art technologies. It is affordable, simple to setup and easy to use. Most importantly, it fits nicely into the active, mobile lifestyle of every citizen."
Availability
The American Grid's Smart Home Energy Network is available through Costco.com famous for their superior values and legendary customer service. For a limited time, Costco customers can enjoy free shipping and free activation fees. Optional professional installation is available any weekday and weekends.
AmericanGrid is a leading provider of affordable Smart Home Energy Network solutions that will simplify saving energy for home owners. Founded by former On-Star® pioneer, C.P. Shankar, and located near Washington D.C., the company uses state of art networking technologies to drive down costs and enables energy stewardship in local communities. Designed in Maryland and tested in California. For more information about AmericanGrid's Smart Home Energy Network, please visit the company at http://www.americangrid.com.
AmericanGrid, "Saving Energy Made Simple" and "Smart Home Energy Network" are registered trademarks of American Grid, Inc. All other trademarks are the property of their respective owners.
# # #