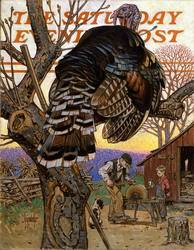 New York City, NY (PRWEB) February 20, 2008
The American Illustrators Gallery is pleased to announce its current exhibition of artworks featuring Joseph Christian (J.C.) Leyendecker (1874-1951) and Golden Age Illustrators, on view through Summer 2008.
J.C. Leyendecker emerged as a major talent in illustration art near the close of the nineteenth century. He became the most sought after and in vogue illustrator of his day, reaching the peak of his fame and of his productivity in the 1930's. His career approach immensely influenced the art of illustration and he became a mentor to an entire generation of younger artists, most notable among them Norman Rockwell, who began his own career by specifically emulating Leyendecker.
Leyendecker's renown grew from his ability to establish a specific and readily identifiable signature style. With his very wide, deliberate brush strokes, done with authority and control, he seldom over-painted, preferring to intrigue the viewer with the omissions as well as the parts included. His most memorable creations, which live on to this day, were the iconic images of the Arrow Collar Man and the New Year's Baby. "New Year's Baby 1930", currently on display, is an example of the latter. Adorable, droll, and dynamic, it depicts a baby floating in the spotlighted, night-time sky amongst multi-colored confetti. The infant clings precariously to a parachute and descends to earth with 1930, the new year. Leyendecker also created the first Mother's Day cover for the Saturday Evening Post, a painting, which single-handedly birthed the flower delivery industry.
Between 1896 and 1950, J.C. Leyendecker painted more than four hundred magazine covers, of which three hundred and twenty-two covers were for the Saturday Evening Post alone. No other artist, until the arrival of Norman Rockwell, was so solidly identified with one publication. Also, on view as part of the exhibition, "A Turkey for Thanksgiving" is an example of a cover for a holiday edition for the Post. In the extreme foreground, a wild turkey sits on the bare branch of a tree. The tree and turkey partially obscure the publication's title and double-line logo at the top of the composition. Behind the turkey and the logo, an old farmer sharpens his ax in a barnyard, as a young boy looks on. Although Leyendecker was forced to work within the framework of the Post's format, with its logo and double-line at the top of the illustration, his composition is dynamic and depicts spacial depth with a dramatic flare.
In 1905, Leyendecker received his most important commercial art commission from Cluett, Peabody & Co. to advertise their Arrow brand of detachable shirt collars. Leyendecker created the 'Arrow Collar Man,' a handsome and smartly dressed symbol of fashionable American manhood. Through his advertising illustrations, Leyendecker boosted sales for the company to an incredible amount of over $32 million per year, and defined the ideal American male: a dignified, clear-eyed man of taste, manners, and quality.
"Arrow Collar Ad---Man and Woman with Horses" is a magnificent example of such Arrow Collar advertisements. The two are stylish and impeccably dressed holding riding crops and looking in the distance to what lies ahead. They are youthful, gorgeous, and elite. In these advertisements, Leyendecker created iconic images of the highest class of society. The brilliantly and successfully depicted taste-makers and style setters upon whom we all seek to emulate.
Also currently on display are the works of Leyendecker's contemporaries and successors including Norman Rockwell, N.C. Wyeth, Howard Pyle, Jessie Willcox Smith, Maxfield Parrish, Dean Cornwell, Stevan Dohanos, and John Falter.
For more information, telephone 212.744.5190. Gallery hours are Monday through Friday, 10 am to 5: 30 pm, or by appointment.
###