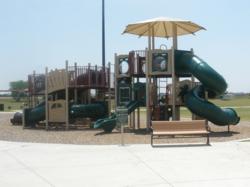 Prosper, TX (PRWEB) July 26, 2012
American Parks Company joined forces with the Town of Prosper Sr. Parks & Recreation Planner, Wade Harden, to provide new commercial playground equipment for a community build project in Frontier Park. Through collaboration with many facets of the municipality and community as a whole, American Parks Company has designed a large outdoor community pavilion and splash park to coincide with a community driven playground called Windmill Park, a wonderful display of park playground equipment. The Frontier Park project was completed this July and will be a park and recreation showpiece for adults and children alike for many years to come.
Community build projects, similar in concept to the way Habitat for Humanity builds homes, allows the community to take full ownership of the playground by sponsoring fund-raising projects for the purchase of materials, and gathering volunteers to actually construct the park playground equipment.
From its humble beginnings in the mid-1800s to its incorporation in 1914, the Town of Prosper has enjoyed tremendous growth over the past five years. Due to a combination of new industry and the growth of the Dallas-Fort Worth Metroplex, the Town of Prosper is now home to more than 100 businesses and hundreds of new families. As the Town grows to its projected build-out population of 90,000 residents, Prosper's vision is to remain a "Place Where Everyone Matters."
The sudden success of the town has spawned the need for new school playground equipment, as well as home owners association parks and playgrounds as well as public parks and outdoor facilities. American Parks Company was pleased to work together again with the Town on Prosper on this large municipal contract.
American Parks Company President and CEO Martin Chad McNeill stated, "American Parks Company is proud to once again be a part of the tremendous growth of the beautiful North Texas Town of Prosper." He added, "Most of all, we are proud to call Prosper home. The new community pavilion and splash park are places where families can gather and where children will be smiling for years to come, and it's a great feeling to be a part of that experience."
American Parks Company has been building better parks for kids of all ages since 2005. They specialize in working with commercial institutions such as churches, schools, non-profit organizations and municipalities, such as Prosper. They are honored to have had the opportunity to have their outdoor parks and recreation product lines represented in their home base of Prosper and are committed to excellence in customer service and community involvement. "As the Town of Prosper continues to grow, we will continue to strive to help make this town a place centered on family and community by helping to provide the highest quality and safest park amenities and commercial playground equipment available," said McNeill.
For more information on community build projects, contact American Parks Company. http://www.AmericanParksCompany.com