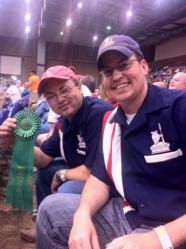 Kansas City, MO (PRWEB) October 03, 2011
This weekend, Pork Barrel BBQ's Competition BBQ Team joined the nations top barbecue pitmasters to cook at the American Royal World Series of Barbecue Invitational contest in Kansas City, MO.
The annual event, which includes back-to-back barbecue contests with more than 540 competition barbecue teams from around the world, invited 142 teams to compete for the title of "Best Barbecue in the World." Pork Barrel BBQ earned its invitation to the 32nd annual American Royal Invitational contest by winning the Grand Championship title at the 2011 Safeway National Capital Barbecue Battle in Washington, DC, the nation's largest barbecue festival.
"It is always a thrill to cook in Kansas City, one of America's barbecue mecca's, with so many great competition barbecue teams," said Heath Hall, Co-founder and head pitmaster of Pork Barrel BBQ's competition barbecue team. "Barbecue contests are community events, and it's nice to get the chance to spend a few days enjoying the company of so many barbecue legends and professional pitmasters over our smokers. A highlight for me was getting to represent America in a grill off with Canada's leading pitmaster, Danielle Dimovski, head pitmaster of Diva Q."
On Saturday, the Kansas City Barbecue Society hosted an Iron Chef-style showdown of celebrity pitmasters who were tasked with creating a meal from a list of unknown ingredients before a live audience. The Grill Master Series showdown featured Hall representing the U.S. and Dimovski representing Canada. The crowd enjoyed the live cookoff challenge and sampled the custom dishes from both chefs, including Dimovski's grilled steak and vegetable medley with potato salad.
Hall won over the crowd and the Grill Master Series judges with his Asian-inspired meal that featured a Pork Barrel BBQ peanut encrusted grilled steak, grilled vegetables, coleslaw, and Hall's public debut of his grilled yellow bell pepper rice recipe.
Grill Master Series judges included members of the audience alongside culinary experts including Edie Adel, former Grand Champion of the American Royal.
Hall and Pork Barrel BBQ co-founder Brett Thompson have been fortunate to be mentored by some of barbecue's greatest legends who have helped mentor the team along its rapid rise to success in the world of barbecue. During the weekend, Hall and Thompson spent time with many of their mentors including Pat Burke of Tower Rock Barbecue, Rod Gray of Pellet Envy, Dave Raymond (better know as Sweet Baby Ray) and Mike Mills of 17th Street Bar and Grill.
Many of these well-known pitmasters, including Neil Strawder of Bigmista BBQ and Tuffy Stone of Cool Smoke, took time during the busy competition to visit with local chefs and culinary students and share tips on cooking techniques, meat preparation, and the influence of barbecue in today's restaurant industry.
Overall, Pork Barrel BBQ finished in the top ten percent of the open contest (40th overall out of 483 teams), with a 6th place in chicken, and a perfect score for their dessert, finished 26 out of 142 teams in the Invitational, and took home 10th place in the brisket category.
Later this month, Pork Barrel BBQ will compete in the 2011 Jack Daniel's World Championship Invitational Barbecue contest in Lynchburg, Tennessee.
For more information, visit the Pork Barrel BBQ website http://www.porkbarrelbbq.com and read about their latest updates and adventures on Facebook, Twitter (@porkbarrelbbq) and the company's blog.
About Pork Barrel BBQ
Pork Barrel BBQ was founded in December 2008 during the peak of the economic crisis to prove that a company not owned or operated by the federal government could succeed, and that if you had a good idea, it was still possible to grab a piece of the American Dream. Pork Barrel BBQ founders, Heath Hall and Brett Thompson, ran the company out of the basement of their houses, selling their award winning BBQ products one bottle at a time. In less than one year, their Pork Barrel BBQ Sauces and Spice Rub were carried in over 1,000 stores in 40 states. Throughout their journey, they have stayed true to their mission – to unite the nation through the great tradition of BBQ, and bring bipartisan flavor to your next meal. The Pork Barrel BBQ Competition BBQ Team entered its first contest, The Safeway National Capital Barbecue Battle, in June 2009, and walked away with two trophies – Second Place in the "Nations Best BBQ Sauce Contest" and Fourth Place for their pulled pork in the Memphis In May portion of the contest. Since then, the team has won multiple awards, including the 2011 Perdue National Chicken Championship, the Safeway National Capital Barbecue Battle in 2011, the "Chinet People's Choice" award for best BBQ sauce in 2010 and other notable Memphis in May and Kansas City Barbecue Society BBQ competition accolades as well as having their Pork Barrel BBQ Original BBQ Sauce named Best Sauce in America and one of "The 125 Best Foods for Men" by Men's Health Magazine in November 2010. For more information, visit http://www.PorkBarrelBBQ.com or follow Pork Barrel BBQ on Facebook and Twitter (@porkbarrelbbq).
###