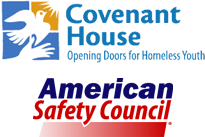 American Safety Council continues its effort to support the Covenant House mission in the wake of Hurricane Sandy.
Orlando, FL (PRWEB) November 02, 2012
Following the devastating effects of Hurricane Sandy, the American Safety Council has donated $1,000 to both the New York and New Jersey branches of Covenant House, a non-profit organization serving homeless kids. The American Safety Council will also be donating $1 from every New York and New Jersey defensive driving course sold through November 15.
"In the aftermath of Hurricane Sandy, Covenant House shelters have been damaged and even more children are in need of emergency aid," said Tom Page, CEO of the American Safety Council and Board Member of the Covenant House Florida branch. "The American Safety Council has a longstanding commitment to Covenant House and its mission. We hope our contribution can help to support the tireless efforts of staff and assist in providing homeless youth with the care they need."
With shelters in Atlantic City, Newark, New York City and other cities in the United States, Canada and Central America, Covenant House is the nation's largest adolescent care agency serving homeless, runaway and at-risk youth. Their doors are open 24 hours a day for youth in need.
"Our efforts aim to support the Covenant House mission of serving youth who have nowhere to go, especially in the midst of the devastation to their cities," added Bob Proechel, president of the American Safety Council and former resident of Malone, New York.
The American Safety Council has provided educational courses for state regulatory agencies, including the New York State Department of Motor Vehicles and New Jersey Motor Vehicle Commission, court systems and individual customers for more than ten years. To learn more about the American Safety Council, please visit us at http://www.AmericanSafetyCouncil.com.
For more information about Covenant House or to make a donation, please visit http://www.covenanthouseny.org or http://www.covenanthousenj.org/.