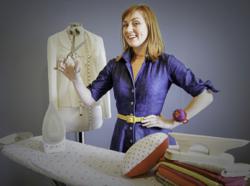 Show visitors can test-drive sewing machines, see a fashion show, do some shopping, or watch a demo to get creative tips, discover fresh possibilities and be inspired for new sewing and craft projects
NOVI, Mich. (PRWEB) September 18, 2012
The 19th annual American Sewing Expo opens Friday, Sept. 28 and runs through Sunday, Sept. 30 at the Suburban Collection Showplace in Novi with fashion shows, classes and shopping for beginner to expert sewers and crafters. It is being held in conjunction with the Association of Sewing and Design Professionals' annual conference.
"You name it, we've got it from reality sewing competition and daily challenges to one of a kind fabrics and supplies," said Janet Pray, show producer of the largest independent consumer sewing show in the country. "The hands-on workshops, classes and demonstrations will whet your artistic and creative appetite." The show features accessories, embellishments, fashion sewing, fitting, home decorating, machine embroidery, needle arts, quilting, sergers and wearable art.
Show instructors include couture expert and HGTV host of "Sew Much More" Susan Khalje; New York City Fashion Institute of Technology couture professor Kenneth King; fashion sewing expert and "Chanel and That Jacket" workshop teacher Claire Shaeffer; Quilting Arts TV and fiber artist Lynn Krawczyk; Sew News writer and founder of Labours of Love Heirloom Sewing Supplies Debra Justice; home seamstress and creator of Gertie's New Blog for Better Sewing Gretchen Hirsch; sewing blogger and owner of A Fashionable Stitch Sunni Standing and other award winning fashion sewing designers including Linda McGehee, Joi Mahon, Kathy Ruddy and Angela Wolf.
Reality sewing television competitions are the inspiration for the "Passion for Fashion Sewing Challenge" that begins as the show opens when 12 finalists design and sew garments for judging and a fashion show (similar to Lifetime's Project Runway and Bravo's The Fashion Show). Contestants are from Arkansas, Illinois, Michigan, Nebraska and North Carolina. "Quick-Stitch, the challenge" is the daily reality sewing competition using a 75 minute fashion accessory, home décor or craft sewing project. The top daily contestants will compete on Sept. 30 in a two hour "Quick-Stitch, Stitch-Off" challenge sponsored by Craftsy.
Attendees can learn tips and techniques at make-n-take projects in vendor displays; as they sew their own project to take home at the Sew Party Café sponsored by Juki; and as they make a handbag and embellish it using their style and imagination at BagMania sponsored by Janome and Ghee's.
The "Innovation Generation Fashion Show Competition" will be held on Saturday for 8 to 18 year olds who know the sewing process and have made their own garments. Entries are prejudged and then worn by the contestants on the Expo Fashion Stage. A Dream Sewing Room sponsored by Brother will be given away on Sunday.
Special exhibits will display cutting edge of fashion sewing, quilts, wearable art, Threads Magazine ASDP Challenge garments, Haute Couture Club stripe challenge garments, 2-D and 3-D fiber art showcase, Custom Home Furnishings Academy showcase vignettes, Passion for Fashion 2011 winner Erin Miller designs, American & Efird "Out of the Box Quick Gifts Challenge" and Art of Cosplay costumes.
"Show visitors can test-drive sewing machines, see a fashion show, do some shopping, or watch a demo to get creative tips, discover fresh possibilities and be inspired for new projects," said Pray. "Sew' many possibilities to learn new crafts, brush up on techniques and find out how the experts do it at this year's show."
Showgoers will see over 20 exhibits, fashion style shows and sewing challenge competitions. Over 125 exhibitors from 35 states, Australia and Canada will be displaying sewing machines, notions, threads, patterns, yarn, technology, kits, gadgets, embroidery designs, tools and other products. Techniques and tips will be taught at over 200 seminars, hands-on workshops and demonstrations.
Suburban Collection Showplace is located at 46100 Grand River Avenue between Novi and Beck Road in Novi, Michigan. Show hours are 9 a.m. - 6 p.m. Friday; 9 a.m. – 6 p.m. Saturday and 9 a.m. - 5 p.m. Sunday. Preshow workshops are 9 a.m. - 5 p.m., Wednesday, Sept. 26 and Thursday, Sept. 27. Expo admission is $14 and children 15 and under are admitted free with a paying adult. One-hour seminars are $14, all-day workshops are $130 and special combination packages are available. Onsite parking is available for $5. For more information, visit http://www.AmericanSewingExpo.com or call (248) 889-3111.