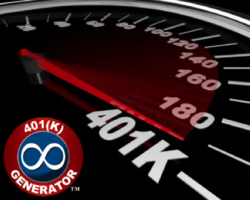 "The most amazing thing I've seen for a long time in the financial world. I have new clients calling me about this all hoiurs of the day, I have never had clients calling me about Insurance or Annuities" Dean Vagnozzi - Financial professional, PA
(PRWEB) June 30, 2011
It is an investors responsibility to apply some form of risk management to ones retirement portfolio, it time to take charge and select the Mutual Funds your 401K is invested in. Buy, hold and pray is dead, the 401K Generator risk management tool provides financial professionals the necessary education to help their clients 401k portfolios. This tool developed by the American Wealth Investing Institute, gives financial professionals an advantage to grow and build a business with new leads with the benefit of additional revenue streams.
Since 2008 Americans have suffered a stock market crash, a busted mortgage bubble, a real estate disaster and loss of jobs due to huge layoffs. These fallout's have created a recession that many did not expect or have seen the likes of since the 1930s'. Furthermore, with the crisis facing our Social Security benefits and pensions being almost a thing of the past, many Boomers are now facing the ugly reality that they will outlive their retirement savings.
A recent 2011 [Gallup Poll confirms that the top concern for two-thirds of Americans is that they will not have enough money for retirement, 13% up from 10 years ago. Gallup says that 74% of non-retiree investors plan to rely on a 401K, IRA or other retirement savings in the declining absence of Social Security.
Another survey conducted by the Boston Consulting Group found that investors find retirement planning overwhelming and confusing, 89% want help finding the right formula to manage this process.
Most Americans are busy with family, jobs and other personal activities. As a result they do not want to take the time or be interest to become experts in planning for retirement. Many confess that because of a lack of knowledge, they fall into the buy, hold and pray trap with a 401K plan. Unfortunately, many are not able to get financial professionals help in-spite of the fact that for most Americans, 401Ks represent the second largest investment they will make in life next to buying a home.
The American Wealth Investing Institute developed the 401K Generator which consist of three components; the Mutual Fund Analyzer: a tool that analyzes in seconds, the performance of over 22,000 mutual funds through the use of a proprietary SPX signal created from the S&P 500 Index. The signal includes looking at how fundamental, technical, statistical and seasonal investors look at the market. This knowledge is used to formulate a bullish stance on the market with a risk management bear signal in place. An SPX Bull/Bear Market Newsletter provides an analysis tool and allows users to not only sort by profit and loss on buy and hold but also by their performance had they followed the SPX Bull/Bear Market Newsletter. The third component is email and text message alerts that notify subscribers of a change in the newsletters stance on the market, allowing users to not have to log on every day to find out when things change.
The 401K Generator made its debut at last months Million Dollar Round Table Conference in Atlanta. Financial professionals from across the country got a chance to see this game changing educational tool that will literally alter the course of their business.
For more information or to subscribe to the 401K Generator go to 401kgenerator.com
###