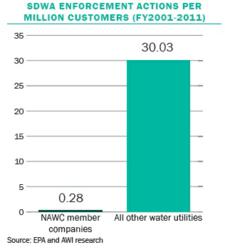 Even by a conservative estimate a public system or small private firm is up to 100 times more likely to be censured by the EPA for Safe Drinking Water Act violations.
Oxford, UK (PRWEB) October 24, 2011
Star Wall Street analyst Meredith Witney is headlining a conference in Atlanta next month addressing the threats facing the US water sector. Having made her name by correctly calling the financial crisis back in 2007, she is now super-bearish on the outlook for municipal finance. With rising liabilities relating to decaying infrastructure, increased scarcity and failing environmental performance, can the US water sector avoid a catastrophe?
The American Water Summit (9th – 10th December 2011), is organised by Austin TX-based American Water Intelligence (AWI) magazine. The publication has been campaigning for a better appreciation of the value of water since it was launched in September last year and it revealed last month that there is a huge discrepancy in the performance of investor owned utilities and municipal water utilities - investor owned utilities which are members of the National Association of Water Companies (NAWC) have been the subject of 0.28 Safe Drinking Water Act (SDWA) enforcement actions per million customers, compared to 30.03 for other utilities.
"The municipal water and wastewater sectors have struggled for years to stay within ever-tightening regulations, and our recent AWI analyses of EPA data have shown that the struggle has been an uphill battle for municipal utilities, already fighting to keep their heads above water, " says Erich Hiner, Senior Reporter for AWI magazine.
"On the wastewater side, public sewage systems have accounted for 69 percent of all facilities in significant non-compliance of the Clean Water Act (National Pollutant Discharge Elimination System - NPDES) over the past five years, a record ten times higher than any other single industry the EPA tracks. Sewer overflows and outdated infrastructure have caused American utilities to be racked with massive fines and work agreements – sometimes as high as several billion dollars. Sewage plants and systems have been responsible for about 9 percent of all Clean Water Act violations since fiscal year 2001. Private water, meanwhile, is virtually absent from the records."
The contrast is even starker for drinking water. The compliance record of public water utilities pales in comparison to that of large, investor-owned water companies. "Even by a conservative estimate," Erich continued, "a public system or small private firm (such as a local water association) is up to 100 times more likely to be censured by the EPA for Safe Drinking Water Act violations. In fact, no large, investor-owned water utility firm has been fined for SDWA violations in the past 10 years."
The municipal sector is staffed with devoted and highly skilled water professionals, but the challenges facing U.S. water systems are enormous. From a regulatory point of view, the facts and numbers speak very clearly to tomorrow's water and wastewater challenges.
Besides addressing the issue of financing failing infrastructure, the American Water Summit will also debate the following challenges:

Water for agriculture: a systemic risk or an investment opportunity?
Climate change and water availability: how do we address the decline in long term water availability?
Water and energy: to what extent can technology overcome environmental concerns?
Water on the political agenda: how can we make the politicians listen?
To arrange a press pass for the Summit or to obtain further details of American Water Intelligence's recent surveys contact Ruth Newcombe on rn[at]globalwaterintel.com.
'Global Water and Wastewater Quality Regulations 2012: the essential guide to compliance and developing trends' is the first complete roadmap to the regulatory frameworks and standards worldwide, and provides exhaustive data on more than 300 regulated substances for drinking water and wastewater. It will be pithy reading for water technology companies, monitoring equipment providers, policy makers and water utilities, and contractors and investors. Available in printed format (including CD ROM database) and online, from Global Water Intelligence.
Contact: rn[a]globalwaterintel.com for further details.
Global Water Intelligence (GWI) researches and publishes business data and information about the water markets worldwide. Head-quartered in Oxford, UK it also has offices in Singapore and USA (Austin, Texas) and has researchers and office staff in many other countries.
It publishes three subscription titles and a free weekly GWI Briefing email and around six individual reports per year on particular water sectors/geographic regions. It also organises two major financial conferences for the water industry each year: the American Water Summit in Autumn (Atlanta, November 9/10th 2011) and the Global Water Summit in Europe in Spring (Rome 2012). http://www.globalwaterintel.com.
# # #